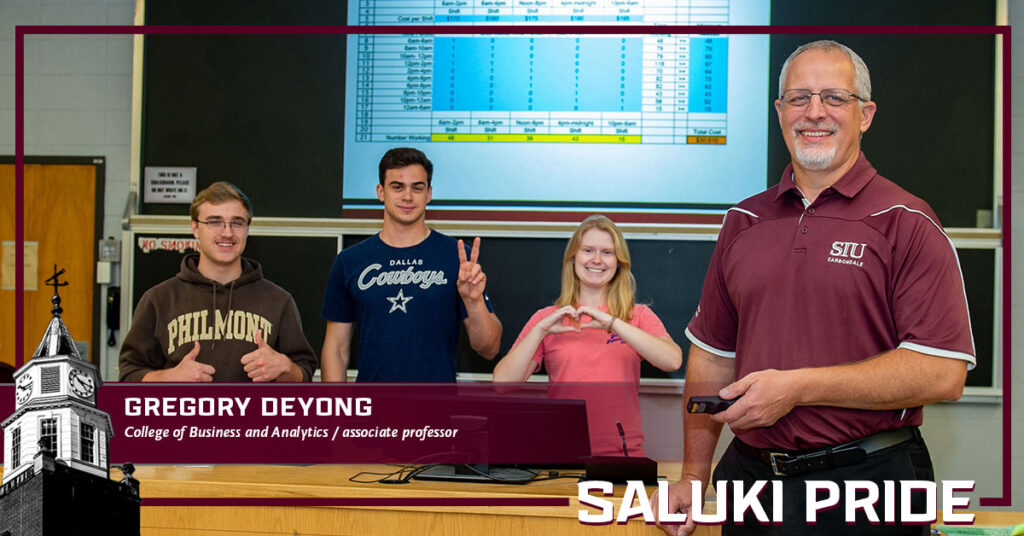 Gregory DeYong, associate professor of management in the College of Business and Analytics, is very interested in his students and their well-being and helping them succeed, and he proves it in numerous ways, while also advancing research in his field, which is of great relevance in today's world, colleagues say.
DeYong is one of just two tenure-track faculty in the School of Management and Marketing who work in the important area of supply chain management, logistics and transportation.
"One only needs to review supply chain problems over the recent past to understand how important this knowledge area is," said Peter Mykytyn, management program coordinator and professor.
Mykytyn said Deyong was "instrumental in working to develop the American Production and Inventory Control Society (APICS), now known as the Association for Supply Chain Management. It's a registered student organization (RSO) that focuses on production, operation and logistics."
For many years, DeYong has also served as the faculty adviser to SIU's Beta Gamma Sigma, a national honor society for top business students.
In addition, he is currently working to create a Center for Supply Chain Management and Logistics at SIU with four goals in mind:
Taking the university's supply chain management curriculum to world-class levels.
Developing supply chain capabilities in the Southern Illinois region.
Supporting supply chain management research on campus.
Attracting and supporting top-notch supply chain management students to SIU.
Get to know: GREGORY DeYONG
Name: Gregory DeYong
Department and job title: School of Management and Marketing in the College of Business and Analytics, associate professor of management
Years at SIU Carbondale: 9
Give us the elevator pitch for your job.
My teaching, research and administrative duties are all focused on application of "the science of better" in business. In my area, operations management, we have the opportunity to apply powerful analytical tools to real-world problems. Our goal is finding the best possible solution (optimization) and ensuring that this optimal solution is actually usable and understandable for decision-makers. In my case, this means using mathematical techniques and computer tools to identify solutions and applying knowledge of human behavior to ensure that the optimal solution becomes part of the processes used by a business.
What is the favorite part of your job?
For me, the ability and freedom to study interesting problems is exciting. Finding a better solution is always gratifying and knowing that you have found the best possible solution (no one will ever find a better one!) is a great motivator.

Why did you choose SIU?
SIU was the best solution to my dilemma of where to work. Carbondale is a true "college town" where the city has embraced the university and vice versa. SIU offers an excellent research university structure with undergraduate, graduate and doctoral students. Southern Illinois has great scenery and natural resources and, most importantly, lets us experience all four seasons without too much winter!
My fondest memory as a child is…
School lunches. The food really wasn't that bad, and the good times with my friends were priceless.
I'm happiest when I am…
In a boat on a lake – either fishing or just cruising around.
Know a colleague to feature in Saluki Pride? Simply fill out this form.