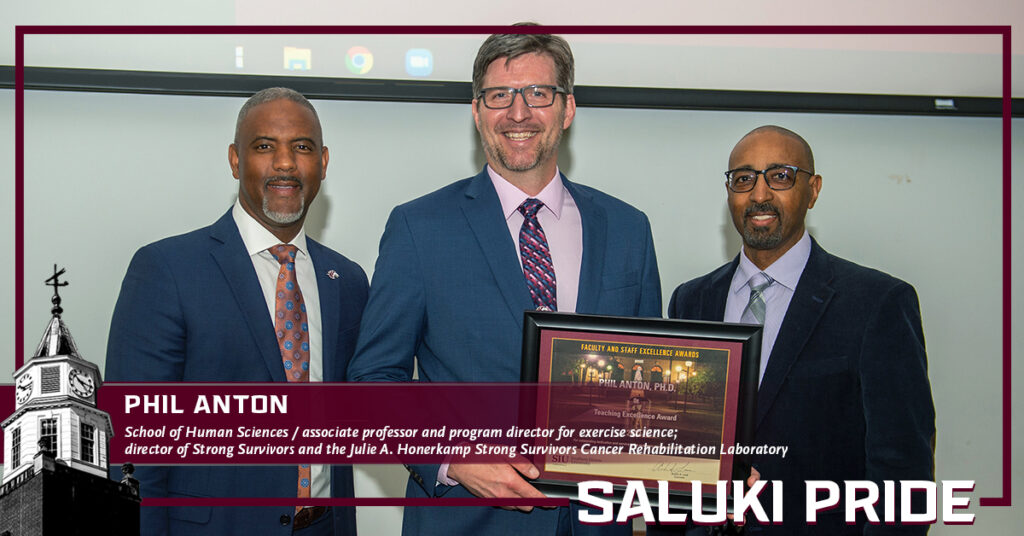 Phil Anton, an associate professor in the School of Human Sciences, has many roles at SIU, including directing the Strong Survivors Program, centered on cancer rehab, which he helped found in late 2005. Because of his devotion to SIU Carbondale students and the people they serve, Anton has received the university-level Teaching Excellence Award (tenured and tenure track).
Robert Morgan, dean of the College of Health and Human Sciences, said Anton is a great asset at SIU and has stayed consistent over the years with his active engagement in the classroom.
"Despite heavy research and administrative commitments, Dr. Anton is able to maintain excellence in his teaching," he said. "It speaks volumes about his commitment to teaching and to his students."
Anton won two college level teaching awards prior to this. He has received recognition as the College of Education and Human Services' Outstanding Teacher of the Year in 2012-2013 academic year. Also, he was recognized as the inaugural Teacher of the Year by the College of Health and Human Sciences in the 2020-2021 academic year.
Get to know PHIL ANTON
Name: Phil Anton
Department/title: School of Human Sciences, associate professor and program director for exercise science; director of Strong Survivors and the Julie A. Honerkamp Strong Survivors Cancer Rehabilitation Laboratory.
Years at SIU Carbondale: 17
Give us the elevator pitch for your job.
I teach courses in exercise science, as well as cancer rehabilitation. Cancer rehab is my research area, and this work is accomplished via the Strong Survivors program.  Strong Survivors uses exercise as a therapeutic tool to help cancer survivors and caregivers get through the treatment and recovery process. This provides a valuable service to the Southern Illinois community and gives Saluki students the opportunity to gain valuable, unique professional and personal experience as they work directly with the program participants. 
What is your favorite part of your job?
I love observing how the many research and service opportunities offered through the exercise science program (like the Strong Survivors program) allow students the opportunity to blossom into confident, competent and compassionate individuals who want to serve their fellow humans and make the world a better place to live. 
Why did you choose SIU?
SIU is located approximately midway between my family in Michigan and my wife's (Julie Partridge, professor of sport and exercise psychology, NCAA faculty athletic representative (FAR) for SIU, and graduate program coordinator for the School of Human Sciences) family in Kansas. We came here from the University of Northern Colorado where we both earned our Ph.D.s, and we loved the fact that the southern tip of Illinois is virtually all state parks and national forest land.
How should people stay determined to work out with little motivation?
You must make exercise a part of your daily routine, like showering, eating, going to the bathroom, etc. It should be something you can't skip unless you are under the weather, injured, etc. Even then, you can still do basic activities like stretching to help maintain your fitness.
What are some skills you gained while teaching at SIU?
I have become a bit of a video auteur, making videos related to aspects of SIU, as well as our two beagles, Booker, and Bonnie. Most of the videos I have made are humorous in nature and feature me looking very foolish. I take what I do very seriously (research, teaching, service to the community), but I don't tend to take myself very seriously.
Know a colleague to feature in Saluki Pride? Simply fill out this form.