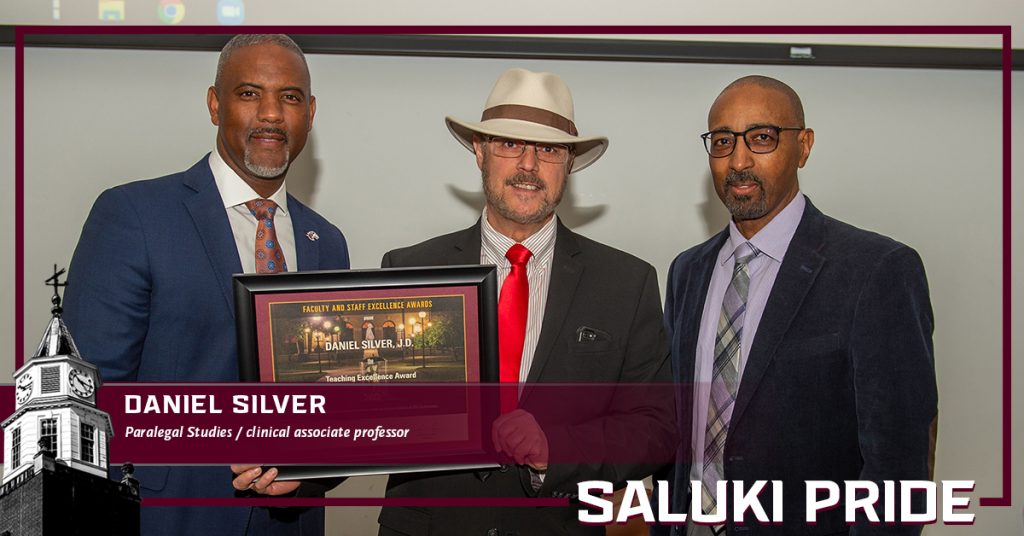 Daniel Silver, a clinical associate professor in paralegal studies within the School of Justice and Public Safety, has received the university-level 2022 Teaching Excellence Award (non-tenure track). Silver developed a wide range of law-related courses over the years designed around what is in the best interests of the students, the most recent being Cannabis Law.
Matthew Giblin, director of the School of Justice and Public Safety, nominated Silver, citing his colleague's achievements.
"Prof. Silver is a perfect candidate for the university-level award. He is a dedicated teacher," Giblin said. "His values, as shown by his contributions with the internship and cannabis law courses, extend beyond his home program. He is truly deserving of this award."
Silver's students describe his teaching as innovative, quirky and empathetic. They describe Silver's courses as enjoyable, well-balanced, easy to follow and comprehend, and teaching valuable information. His students describe Silver as patient, friendly, open to all types of political discussion, great at explaining complex topics, and stress his willingness and availability to help. Silver was also recently selected by his peers to receive the first School of Justice and Public Safety Distinguished Teacher Award.
Get to know DANIEL SILVER
Name: Daniel Silver
Department/title: School of Justice and Public Safety, clinical associate professor in paralegal studies
Years at SIU Carbondale: 20
Give us the elevator pitch for your job.
I have been teaching a wide variety of legal courses in paralegal studies since spring 2002. I have taught Basic Skills for Paralegals; Introduction to Law; Legal Analysis, Research & Writing I and II; Wills, Trusts & Estates; Contracts, Business Entities; Bankruptcy & Creditors' Rights; Technologies in the Law Office; Cannabis Law; and Advanced Internship.
I received my Juris Doctor in 1993 from the SIU School of Law and my Bachelor of Arts degree in English from Southern Illinois University Carbondale. I am a member of and have served as president and vice president of the Jackson County Bar Association, served on the Joint CLE Committee since 2012, am a member of the Illinois State Bar Association, the Illinois Paralegal Association, the American Association of Paralegal Education, and the American Bar Association, and am Cannabis Counsel in Southern Illinois.
What is your favorite part of your job?
Experiencing my students' successes and, of course, teaching.
Why did you choose SIU?
SIU chose me. I did my undergraduate in English at SIU and received my J.D. from the SIU School of Law. After practicing bankruptcy law since 1993 in the region, SIU's paralegal studies program permitted me to teach Bankruptcy and Creditors' Rights commencing January 2002. After 20 years teaching at SIU, I choose SIU because I am so consistently proud of my students and peers as they put action into their passions for making our world a better place for others, not merely themselves.
What is something you think might benefit our students?
I think every student is an individual. Some come to university with a lifetime of preparation for practicing effective time management and study mechanisms. Others are not that fortunate. I think that as soon as we identify any students receiving a C or lower, we should immediately provide every one of those students with a one-month course in effective time management and study mechanisms. I think we should present the course in a way that provides the students with daily practices so that upon exiting the course, the students are able to manage these skills on their own going forward.
What skills do you think are among the most important for student success?
Students must have strong communication skills. In writing, these must include ready comprehension of grammar, punctuation, sentence structure, reading comprehension and a capacity to process information through inquiry. Any student who is not up to speed with these skills will find it more than difficult moving forward in education. A basic skills course would go a long way to remedying the inequities of students who arrive at university without a strong foundation in such skills.
Know a colleague to feature in Saluki Pride? Simply fill out this form.