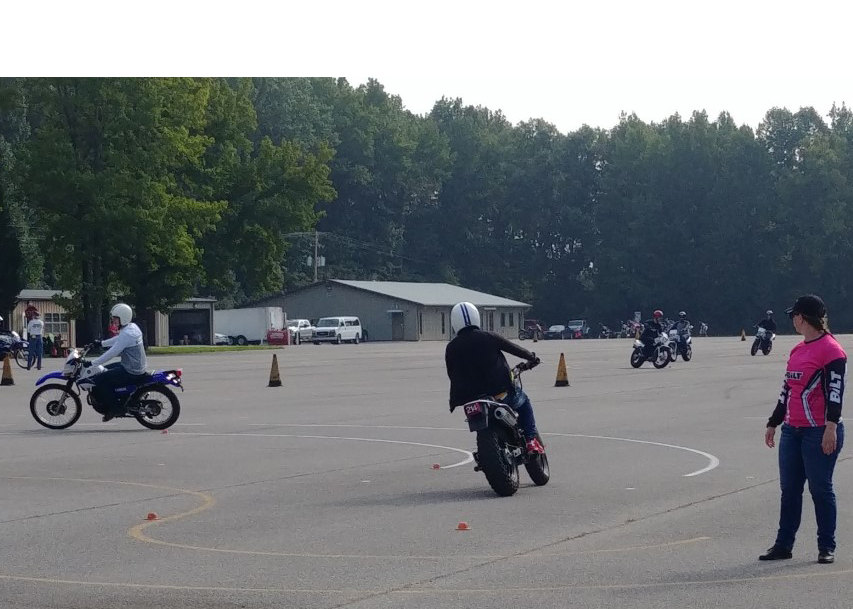 Southern Illinois University Carbondale is celebrating the 50th birthday of a pioneering program that has trained thousands of motorcyclists to safely navigate streets and highways.
In addition to marking the university's 150th anniversary, 2019 is the 50th year for SIU's Motorcycle Rider Program, which provides free training to motorcyclists of all ages.
Motorcycle safety program began as a research project
SIU was a frontrunner in the field of motorcycle safety and has trained thousands of people to safely ride, according to Jared Borrenpohl, Motorcycle Rider Program coordinator.
"SIU had one of the first motorcycle programs in the country," Borrenpohl said.
Borrenpohl said he's been able to find records dating back to 1976 which indicate that since that time about 80,000 people have received training through SIU's program.
The program actually began as a master's degree project. Larry Lindauer competed on SIU's NCAA championship gymnastic teams while earning his undergraduate degree in physical education with a minor in traffic safety education and then working on his master's degree in health and safety. He had been riding motorcycles since the age of 14 and was a graduate student at the SIU Safety Center. That is where his concept for a research project was born.
Lindauer wondered what type of training would be required to help people learn to safely operate a motorcycle and how best to prepare people to teach others to safely ride. With the help of Dale Ritzel, now health education professor emeritus, he developed a cycle safety seminar for traffic safety educators.
Lindauer's research components incorporated a task analysis to determine what motor skills and perceptual skills should be taught to enable people to safely ride motorcycles, and how much time it would take for a non-riders to learn basic skills.
Lindauer's research also showed "any training is better than no training." He and Ritzel published a number of articles about the program and the research taking place.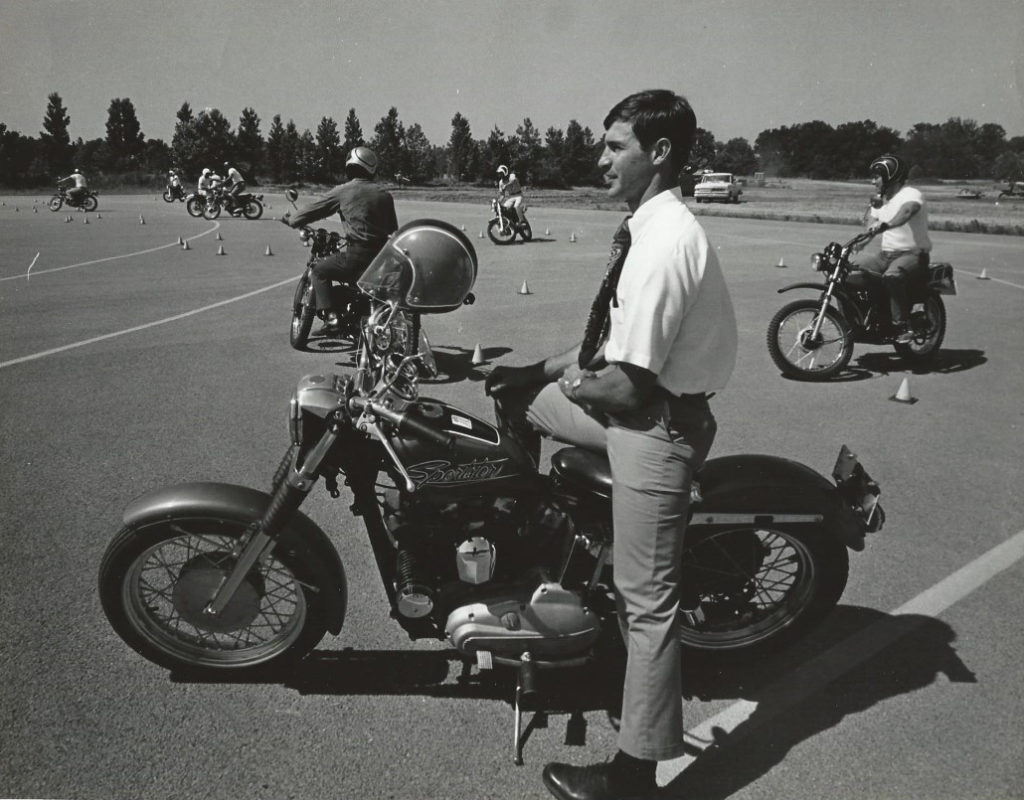 Courses quickly became even more pertinent
The course was first taught in 1969 with driver's education instructors from throughout the region as students. Instructor courses for credit began starting in 1972. Beginning rider courses were conducted through SIU's continuing education program. Lindauer recalls that the motorcycles used in the course were provided by the late Matt Hall, originally an Indian motorcycle dealer and later a Yamaha dealer located west of Carbondale; George and Wanda Swim, owners of the Energy Harley-Davidson dealership, and other area dealers.
Those initial seminars included several evening sessions capped by a six-hour Saturday class. In the classroom, participants learned all about motorcycles and how to safely operate them before they put that knowledge to the test and honed their skills on the university's Traffic Safety Center practice range and in an adjacent wooded area. The latter part of the instructor courses required participants to teach a supervised beginning motorcycle riding course.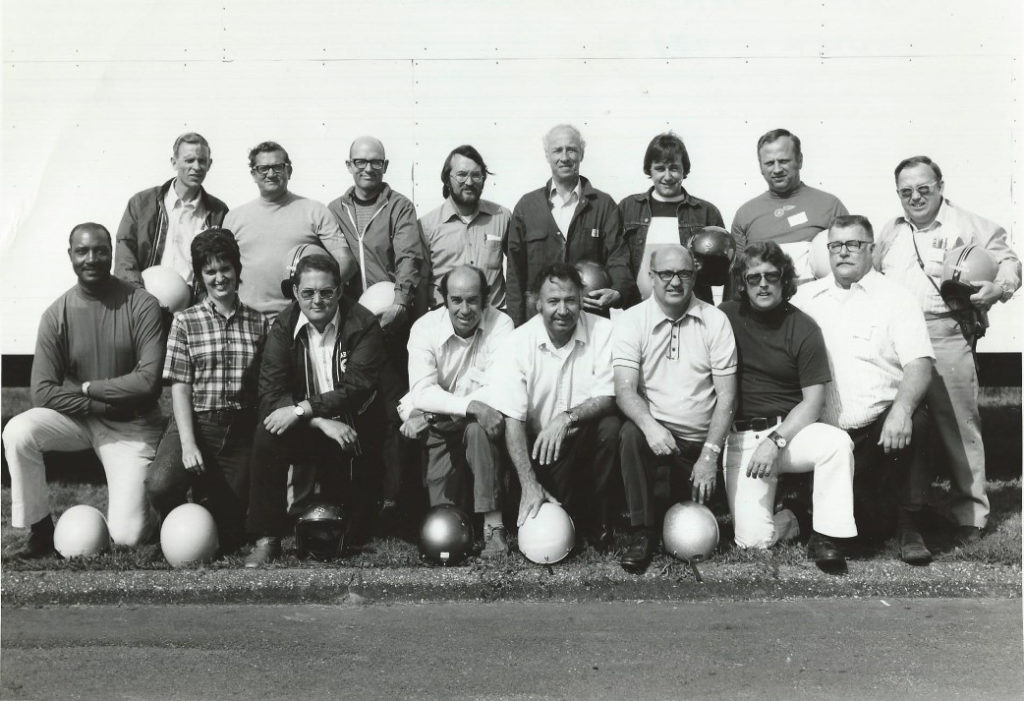 Classes gained popularity and significance
By 1972, highway and off-road components were added to the course. The class was expanded and offered to all riders, not just instructors, beginning in 1975, Lindauer said. He later began teaching an advanced class for riders with experience, preparing them to rider larger bikes and cycles with sidecars.
Lindauer said the courses increased in popularity and importance for several reasons. Motorcycle manufacturers pushed nationwide for safety initiatives. Then, Illinois repealed its helmet law and Federal Department of Transportation officials threatened to reduce the state's highway safety and construction funds, so Lindauer recalls that a deal was made whereby the state expanded motorcycle rider safety classes in 1975 and retained full funding.
In addition, during that era, many undergraduate SIU students couldn't have cars on campus but motorcycles were inexpensive and easy to park so more and more students began riding them. By 1969, approximately 6,000 students were using motorcycles for their local transportation needs, he recalls.
Training proved effective
The class proved itself as well. Lindauer said that during his affiliation with the program, no one who completed the class was killed or seriously injured in a motorcycle accident afterward.
"A moving motorcycle with a person on it has energy and what hurts a person when the cycle crashes into something is the energy exchange," Lindauer said. "Many people think that cars are out to get cycles but research indicates that's not the case. Half of the motorcycle fatalities are caused by riders running off the road. That all and more goes back to training and that's what this program is all about."
According to Borrenpohl, nearly half of motorcyclist fatalities are still caused by single vehicle crashes.
"Typically, these are from running off the road and colliding with a fixed object. We chose the Advanced Rider Course (ARC) curriculum we currently use because it specifically addresses what to do if you go into a turn and you are going too fast," he said.
Class helps people decide if they want to ride
One of the most surprising things Lindauer discovered is that some people who completed the training didn't ride motorcycles afterward. But, that was perfectly okay, too.
"We wanted to make sure that riders could make a rational decision as to whether or not they wanted to ride," he said.
He said some people decided they would stick to off-road riding, which the course still prepared them to do more safely, while others concluded they simply weren't cut out for motorcycles.
Although the off-road component is no longer offered, Borrenpohl said it is still true today that some people who complete the course decide that they don't want to be motorcyclists.
Many people helped the program succeed
According to Lindauer, a number of people played a part in the success the program has achieved from its inception. Others who were instrumental during those early years included Freddie Ford, a Safety Center doctoral student, Robert Gozenbach and Bill Iesenhard, who began working there as undergraduate students, and Pete Hemmerling, a traffic safety master's student.
Several of the early participants in the program went on to lead similar programs in other states, Lindauer said.
After completing his degree, Lindauer became an assistant professor at SIU and continued to work at the center. He went on to work in Saudi Arabia and later owned a business in California before retiring in Idaho, where he still resides.
Program has greatly expanded
Since those early years, the program continued to grow by leaps and bounds under the leadership of. Mike Ashner and Skip Starkey, who operated SIU's program for more than 30 years.
The program now features three classes, taught at about a dozen different sites throughout the region.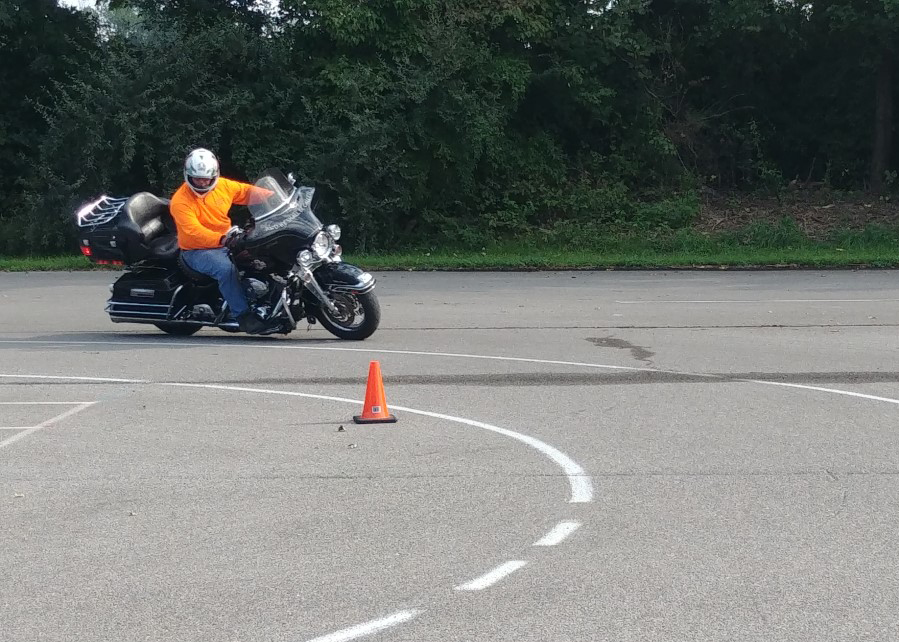 Motorcycle course is free and open to everyone
Funding through the Illinois Department of Transportation allows the course to be offered for free. A $20 deposit is required to guarantee a seat in class, but the money is refunded when the course is completed. People may also walk in to a scheduled class and any available seats are on a first-come, first-served basis.
The program operates classes each year from March through early November at SIU Carbondale and 12 off-campus sites.
Borrenpohl said the instruction provided can benefit every level of motorcycle enthusiast, ranging from those who have never ridden to others who have ample experience. Participants learn skills to help them safely drive scooters or motorcycles on-road or off-road. Even people who don't intend to ride can benefit from the class as they learn first-hand what motorcyclists experience and how important it is to respect all vehicles on the highway.
Three different courses are available
Utilizing curriculums developed by the Motorcycle Safety Foundation, each of the motorcycle riding program instructors has completed a minimum of 80 hours of training with SIU.
SIU currently offers three different course options:
Basic Rider Course – a 20-hour class for new and occasional riders to help them develop skills so they can safely and responsibly ride. It features classroom activities and riding practice
Basic Rider Course 2 – an 11-hour class for people ages 18 or older who already have recent off-road or highway motorcycle experience – or who have passed the basic rider course and want more training.
Advanced Rider Course – a one-day class during which students bond with their own motorcycles while improving skills and enhancing their personal risk assessments. The course includes interactive classroom activities and a series of fun, on-motorcycle exercises to help build skills.
Successfully completing any of the courses nets riders an Illinois Cycle Rider Safety Training Program (ICRSTP) card by mail, which often enables riders the opportunity to obtain insurance premium discounts.
Anyone age 18 or older who completes either of the basic courses can obtain their state motorcycle license classification with the written and riding examinations waived. Students who are ages 16-17 completing the Basic Rider Course can also apply for the "M" classification but will also need to take the written and riding tests at a driver's license facility.
Motorcycles and helmets are provided for all participants who take either of the two basic rider courses.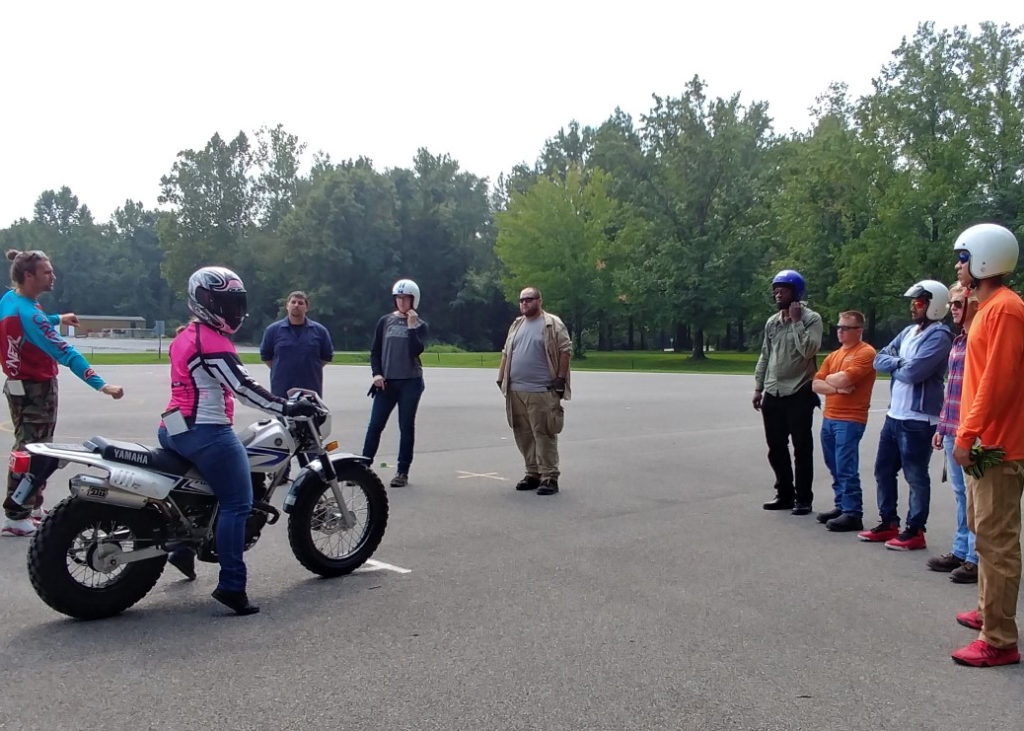 All ages participate at the diverse sites
Class participants are "all ages and from all walks of life," Borrenpohl said. "We are open to all Illinois residents."
Classes typically include a diverse group of people with a good mix of ages, he said. A sizeable number are teens, but a growing number of senior adults are participating as well, he said. Class sizes vary and range from 10 to 36 students, depending upon the facilities at each location, and range from 10 to 36 participants. In the more populated areas, you'll typically find larger classes and course sessions offered nearly every week, he said.
Class site locations are:
Belleville – Southwestern Illinois College.
Carbondale – SIU Carbondale Safety Center.
Centralia – Kaskaskia Central College.
Edwardsville – SIU Edwardsville.
Effingham – Effingham Armory.
Godfrey (temporarily closed) – Lewis and Clark Community College.
Jacksonville – Jacksonville High School.
Litchfield – Litchfield Armory.
Mattoon – Coles County Memorial Airport.
Mt. Carmel – Wabash Valley College.
Olney – Olney Central College.
Quincy – Quincy Regional Airport.
For more information
To learn more about the Motorcycle Rider Program, or for complete class schedules and exact locations, visit mrp.siu.edu, email ridered@siu.edu or call toll-free 800-642-9589.