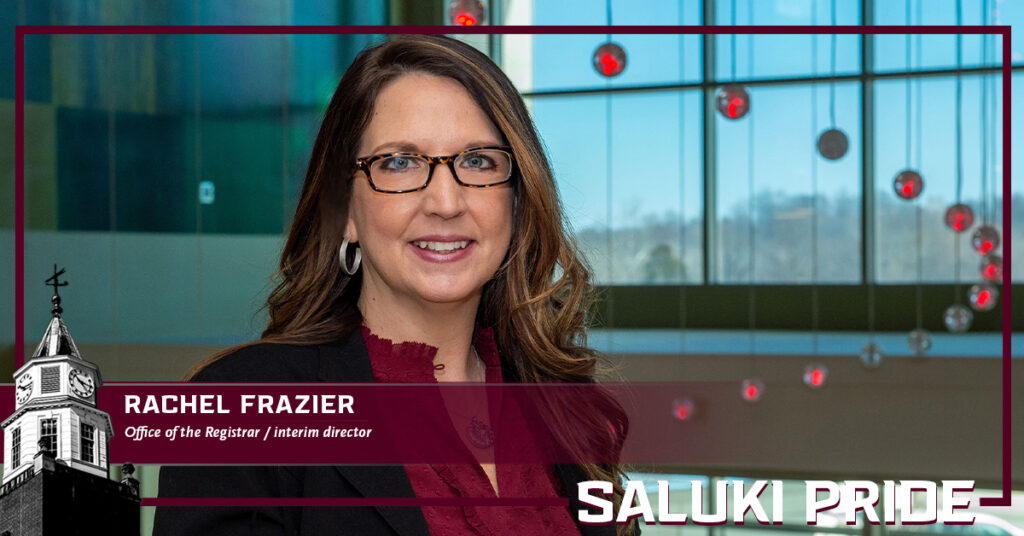 As a three-degree SIU Carbondale alumna who is working on a fourth degree, Rachel Frazier, interim director, Office of the Registrar, strives to relay those same positive experiences in working with undergraduate students and university staff. Trinka Pape, admissions and records coordinator, notes Frazier "always gives more than 100% to serve the undergraduate student population as well as the admissions and advising teams." She adds anytime there is a challenging situation, Frazier is "quick to troubleshoot and find a solution that benefits students and staff alike."
Get to know RACHEL FRAZIER
Name: Rachel Frazier
Department/title: Office of the Registrar, interim director
Years at SIU Carbondale: 13 years
Give us the elevator pitch for your job.
Our profession is very old! The first record of a registrar goes back to 1446 in Oxford, England. The Registrar's Office is connected to pretty much every department on campus. We are the "custodian of the academic record" and must ensure integrity and accuracy in anything involved with academic history. We are the academic historians of the university. We are tasked with upholding academic policy and applying it consistently. We work with students from registration all the way through to graduation, with many services after the point of graduation.
What is the favorite part of your job?
Seeing students learn and grow throughout their journey! There is nothing better than assisting a student in the early stages of their college career and then seeing their name on a graduation list. It is truly an honor to assist students to meet their goals, always on standby to help when needed. I also love working with technologies to support student success. Technology enables us to break down barriers between functions and personalize student experiences. There are a lot of exciting things happening in higher education today that could be a great opportunity for SIU Carbondale and we must seize them!
Why did you choose SIU?
SIU was close to home and familiar to me since I was a young child. When we came to Carbondale for shopping, as a young girl, I can recall being enamored by the Arena and football stadium coming into town. My entire immediate family (maternal & paternal grandparents) live in rural Union County and run large farms. I wanted to stay close to home to assist family when needed and had no desire to be anywhere else. Those family roots run deep, so it was only natural for me to attend SIU and then eventually work here. I'm working on my fourth degree from SIU Carbondale and all of my student experiences here have been positive — molding and shaping me to who I am now. I will forever be grateful to SIU and what I've learned here. My hope is that it shows in the passion of my work today.
The world needs to …
Stop living in fear, turn off the news channels and enjoy life! We are in control of how we respond to things; however, we do not hold the power to change the will of God, so continue living life, soak up all the precious moments, and take every opportunity to enjoy your life and loved ones.
My favorite activity away from work is … and why
Supporting and watching my two children in all their sports and extracurricular activities. My son is a freshman at Anna-Jonesboro Community High School and plays basketball and football. He also plays soccer for St. Louis Scott Gallagher Soccer Academy, so we make several trips to St. Louis on a weekly basis. My daughter is in sixth grade at Anna Junior High and plays basketball and cross country. We are very busy and oftentimes stressed with all the schedules, but I love watching them learn and grow. Their education, exposure to culture, spiritual well-being, and happiness is very important to me and it gives me great joy to watch them aspire to be the best versions of themselves.
Know a colleague to feature in Saluki Pride? Simply fill out this form.