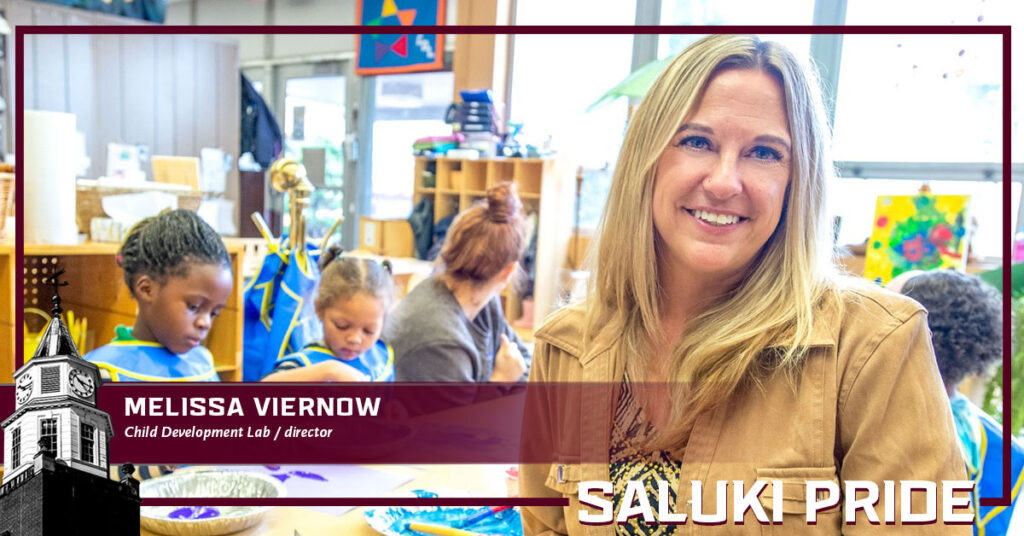 As director of the Child Development Laboratories (CDL), a coordinator of the Southern Region Early Childhood programs and senior lecturer for SIU's School of Education, Melissa Viernow is constantly multitasking and stepping in to do whatever is needed, her colleagues say.
"Melissa wears more hats than one can count, and she does it with confidence, determination, dedication, positivity and servitude," said Patty Davis, lead teacher for the CDL. "She does all she can to support those around her and ensures we are successful as a team."
Davis also noted that Viernow filled in as a teacher to keep classroom closures from happening and even cooked while waiting for a position to be filled.
Those who work with Viernow say her devotion to the university, the children and families she works with and SIU students, is apparently in all she does an that she inspires to grow and improve as well.
Bridget Buffington, assistant instructor in the School of Education, said Viernow is very dedicated to SIU and goes above in beyond in doing her job, particularly in recent years as the COVID-19 pandemic made their work even more challenging.
"She continuously encourages us to become better teachers and her enthusiasm for serving children and families is contagious," added Diana Murphy, School of Education instructor. "I can not say enough about what a privilege it has been to have her as my mentor."
In addition, colleagues note that Viernow has long served leadership roles with the Non-Tenure Track Faculty Association and is also a mother and a previous faculty senate member.
Get to know MELISSA VIERNOW
Name: Melissa Viernow
Department/title: School of Education/ Southern Region Early Childhood Programs director and senior lecturer and director of the Child Development Lab.
Years at SIU Carbondale: 23 as an employee, 7 as an undergraduate and graduate student.
Give us the elevator pitch for your job.
As a Southern Region Early Childhood Programs (SRECP) coordinator, I mentor and support pre-kindergarten teachers in two local school districts (Giant City and DeSoto) and at SIU's Child Development Lab. The SRECP a program offers services to at-risk children and families, including providing educational experiences in the classroom, developmental screenings, home visit opportunities, connections to local resources and more. We have 23 prekindergarten classrooms and two infant/toddler classrooms within 19 school districts (including the CDL) in four counties. Our home visiting program supports families who are expecting and/or have children under three years of age.
My role is to guide the teachers with their professional development goals, support their growth in providing curriculum and assessment opportunities to the children and families they work with, and keep them knowledgeable regarding all Illinois State Board of Education expectations. In addition, I establish relationships with public school administrators and local agencies to help ensure a collaborative effort to recruit as many at-risk children and families as possible and to facilitate a seamless transition into our prekindergarten classrooms from early intervention or other early childhood programs.
As the director of the Child Development Lab, I am fortunate to work with the classroom teachers and engage with the children and their families. Being a lab school also allows me to support our Early Childhood pre-service teachers and Child and Family Service majors as they come to CDL to complete their practicum experiences with infants, toddlers, and prekindergarten children. I work very closely with faculty and advisement in the School of Education. This strong relationship allows us to collaborate and work toward a common goal – providing the EC and CFS students with the best educational opportunity possible.
What is the favorite part of your job?
My favorite part of this job throughout my time at SIU and particularly while working at CDL I've been able to meet and work with some of the most amazing people. Being at CDL has given me an understanding and appreciation of what makes SIU, SIU: the people. Over the years, I have worked with and mentored hundreds of children, families, and students and met numerous employees from various disciplines. I smile when I get updates on the lives of the children who were in my classroom years ago. I LOVE that I can walk across campus and know the names of the grounds crews employees or when I see a carpenter, plumber or iron worker in another building, I can stop to have a conversation with them. I value the opportunity to have served on our Faculty Senate multiple times, where I was able to engage with highly knowledgeable and passionate people. I also appreciate the chance to interact with the administration in my current role as president of the Non-Tenure Track Faculty Association (NTTFA). This job has brought many people into my life, and I am better for knowing all of them.
Why did you choose SIU?
I came to SIU with my then-high school sweetheart in 1992. We worked as student workers at the Rec Center (Special Populations) and Horticultural Research Center. Over the years, we fell in love with the area and ultimately decided that this was where we would stay and raise a family. I came to SIU thinking I was going to major in psychology. It wasn't until I began working with the children at the Rec that I realized those little people were my passion.
I switched my major and came to CDL as an early childhood student in 1993. I completed the practicums just like my current students do. I finished half of my student teaching in the infant room and, upon graduation, was offered a graduate assistantship. I spent the next two years educating children and supporting families and students at the Child Development Lab. When I graduated with my master's degree in 1999, I began working for Southern Region Early Childhood Programs in an inclusion classroom in Christopher, IL. After two years working in the school district, I was offered a position back at CDL as the infant/toddler master teacher. I spent the next 13 years supporting community children and families and supervising/mentoring SIU students. In 2016, I became CDL's director when the programming funding shifted to Southern Region Early Childhood Programs. It still amazes me how my life at SIU has come full circle.
My favorite activity away from work is:
Boating, boating, and boating. Every single weekend after the first 75-degree day, I can be found on my boat, enjoying the beauty of our Southern Illinois lakes. I love the sun and the hot, humid weather, so boating in this area is perfect.
What is your favorite song? Why do you like it?
I can't say that I have a favorite song, but my favorite genre is rock – hard rock. There is just something about the intensity that I find very calming. It's the perfect oxymoron.
Know a colleague to feature in Saluki Pride? Simply fill out this form.