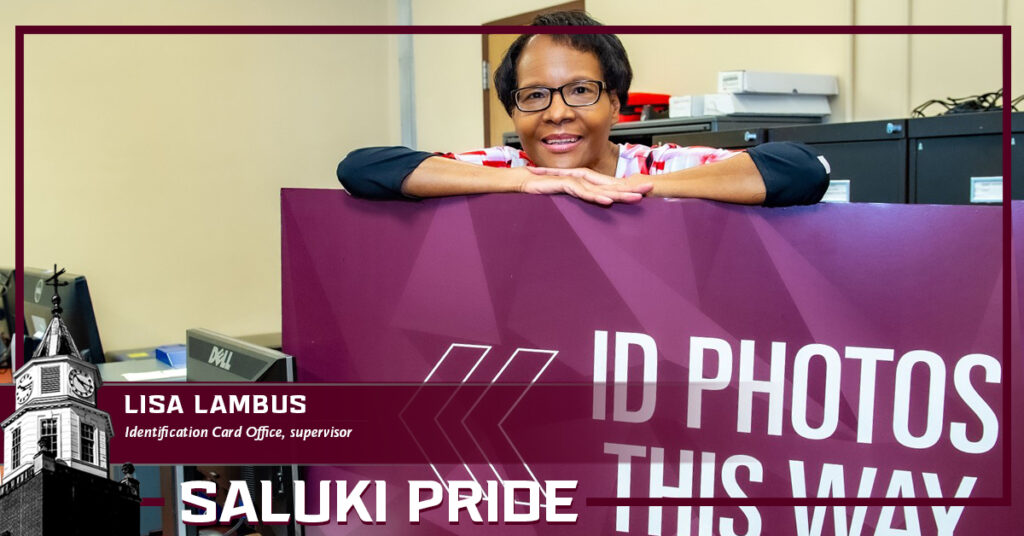 In her role as supervisor of the Identification Card Office, Lisa Lambus is often one of the first faces people see when they join the Saluki family, either as students, faculty or staff, and she goes out of her way to make sure it's a pleasant encounter, her colleagues say.
"Lisa is a ray of sunshine who is always willing to help others," said Tena Bennett, director of the Student Center. "She is so helpful and glad to answer any questions people may have. She does whatever she can to ensure that everyone who comes in to get an ID card starts off on the right foot at SIU."
Get to know LISA LAMBUS
Name: Lisa Lambus
Department/title: Identification Card Office, supervisor
Years at SIU Carbondale: 24
Give us the elevator pitch for your job.
In addition to making identification cards for all students, faculty and staff, I program conference cards to work with defined parameters to be used in our Student Center locations, and I create badges for various departments on campus. Our office also programs, troubleshoots and maintains readers, door access systems and Debit Dawg devices used around campus and in the community. We import images to profiles for our off-campus students and staff who are not able to use the photo upload website, and we collate data to run various reports related to the ID/Debit Dawg activity as well.
What is your favorite part of your job?
The challenges that each day can bring and the opportunity to interact with people from diverse backgrounds who are eager to tell their stories. I love seeing the excitement on the faces of incoming students, the anticipation of those eager to begin the next chapter in retirement and the sense of pride felt by faculty and staff who are new to the university. Having the opportunity to work directly with Dr. Tena Bennett and Kent Epplin and the ability to make and be a part of impactful growth is what makes this a great position to be in. Although it would be difficult to focus on one favorite element of my job, I can say foremost what I enjoy most is the people. Second, I like anything that pushes me outside of my comfort zone in terms of the mechanics of the position. I can now fondly look back when asked, "What is your superpower?" and I can answer that our office, along with Bill Bruns, our IT guru, created and programmed readers for Starbucks vaccine and testing initiative cards in a span of two days. (Mic drop here.)
Why did you choose SIU? I grew up in Carbondale and never wanted to attend any other university and then went on to work here.
My favorite meal is…
Anything with frosting. Or any dish with cheese – lots of cheese. It makes me a much happier person.
What is your favorite book and why?
When I am into escapism fiction, I love books by Jana DeLeon, specifically a series called "Miss Fortune Mysteries." There are two characters named Ida Belle and Gertie, who remove any stereotypes about growing older and refuse to allow others to define their reality. They are my kind of women.
Know a colleague to feature in Saluki Pride? Simply fill out this form.