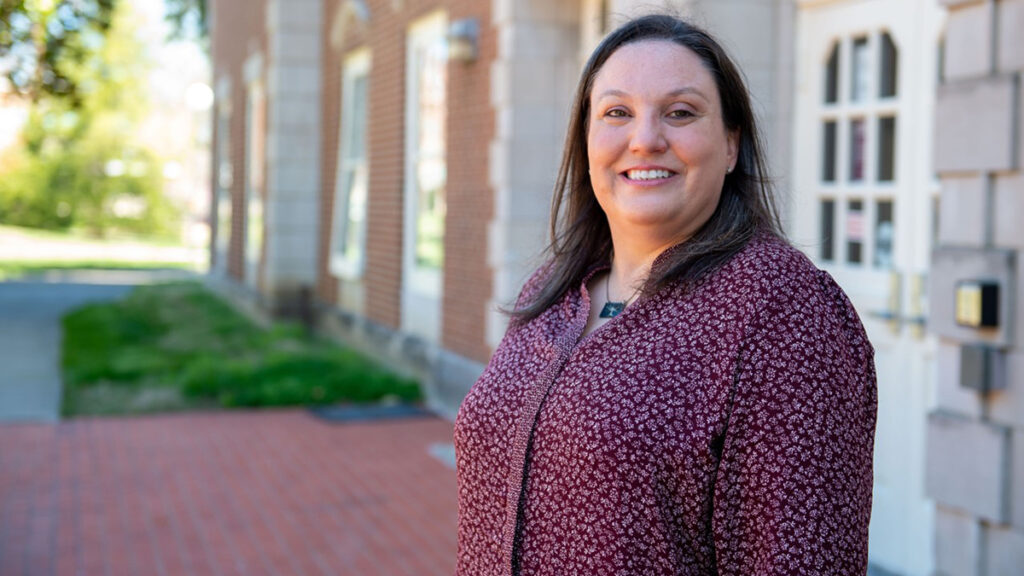 This is one in a series featuring the university's 2021 Faculty and Staff Excellence Award recipients, who are being recognized for outstanding teaching, significant scholarly and artistic contributions, and dedication to furthering the mission of the university.
Bobbi Knapp, an associate professor in kinesiology with cross appointments in sociology and women, gender and sexuality studies, is Southern Illinois University Carbondale's 2021 Women of Distinction Award winner.
The award recognizes a sustained, demonstrated commitment to women, gender equity and diversity illustrated through leadership, vision, or actions or service. Those nominating Knapp say she embodies those beliefs while inspiring students and others to work toward equity, serve others and excel.
In nominating Knapp, the Network Empowering Women, a campus task force created to examine and address issues affecting women on campus and in the community, cited numerous reasons. That includes her research, her impact on students, her work documenting stories of women in the military and her efforts to create athletic opportunities for women and girls in the region
Dedicated to gender equality
Knapp said she is honored to just be nominated by NEW, and has long held the award in high regard because of what it represents.
"Both personally and professionally, I'm dedicated to providing recognition to women's achievements, educating and raising awareness on gender issues, providing new opportunities while supporting those opportunities that already exist, and celebrating accomplishments of those that further gender equality," she said. "Being chosen as the winner of the Women of Distinction Award is a reminder of the strength in the web of support we weave. Coming to SIU in 2009, I developed relationships with strong female mentors such as Dr. Elaine Blinde, Dr. Charlotte West and Dr. Saran Donahoo and with male allies such as Dr. Jim Allen, Paul Copeland and Jeff Goelz, which in turn helped me to foster meaningful connections with students who have gone on to be positive agents of social change."
Praised for her efforts
Knapp is a dedicated and giving trailblazer at SIU and the community, according to those around her.
Knapp inspires students "to create change to ensure a more diverse and equitable environment," said West, a professor emeritus and former associate director of athletics.
Casey Parker, coordinator of SIU's Office of Equity and Compliance, said Knapp is "a leader in diversity and inclusion" and that her students "thrive" under her tutelage and mentorship. Knapp is "incredibly generous with her time and is extraordinarily community minded," Parker added, noting that females throughout the region benefit from Knapp's efforts to enhance sporting opportunities for women.
Knapp also donates time, energy and woodworking talents to benefit various non-profit organizations, including the Humane Society and other animal rescue organizations, in addition to This Able Veteran, Specialized Equine Services, and Rotary clubs, according to Kathy Jones, former SIU senior associate director of athletics.
Career at SIU began over a decade ago
Prior to coming to SIU in 2009, Knapp taught at Northern Illinois University and California State University East Bay in Hayward, California.
Knapp completed her doctorate in the cultural studies of sport at the University of Iowa and earned her master's degree in sport administration and bachelor's degree in geography, both at Central Michigan University.