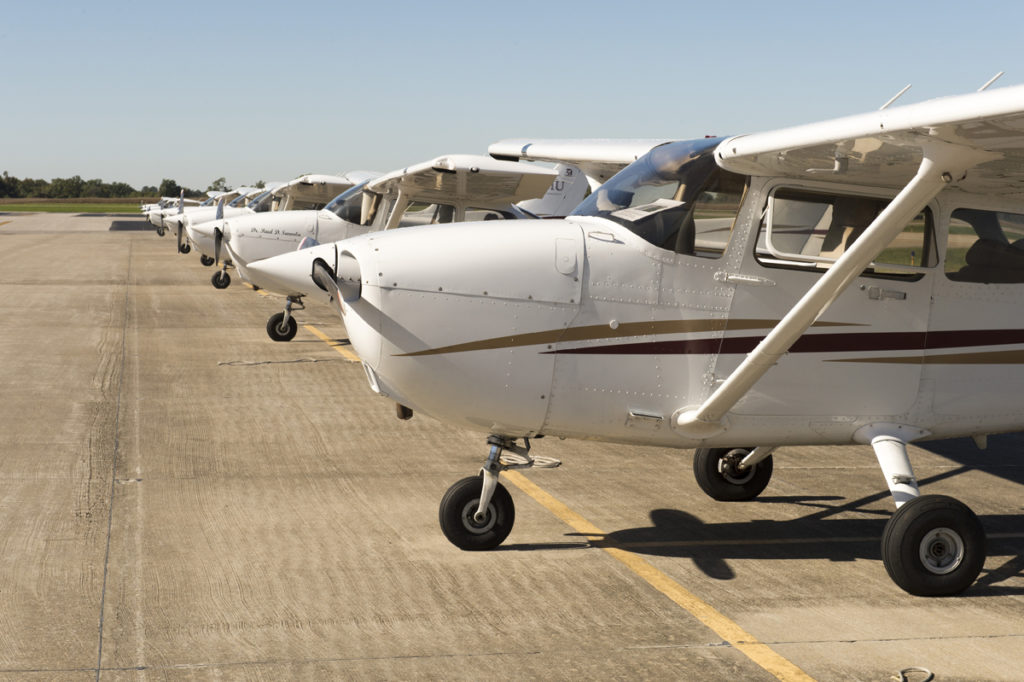 Emily Bennett and Karlie Emery are definitely set on the proper course.
Bennett and Emery, both seniors in Southern Illinois University Carbondale's Aviation Management and Flight program, earned prestigious awards earlier this month at the annual Women in Aviation International Conference. Bennett received the United Airlines Flight Operations Scholarship and Emery received the Envoy Airline Pilot Scholarship.
"Winning this scholarship is helping me further my flight training," said Emery, the daughter of Charles Emery of Park Forest, Illinois. "I have been so grateful for all the support I have received through my college career. I never pictured myself actually receiving a scholarship at the WAI conference and the fact that I did is so rewarding."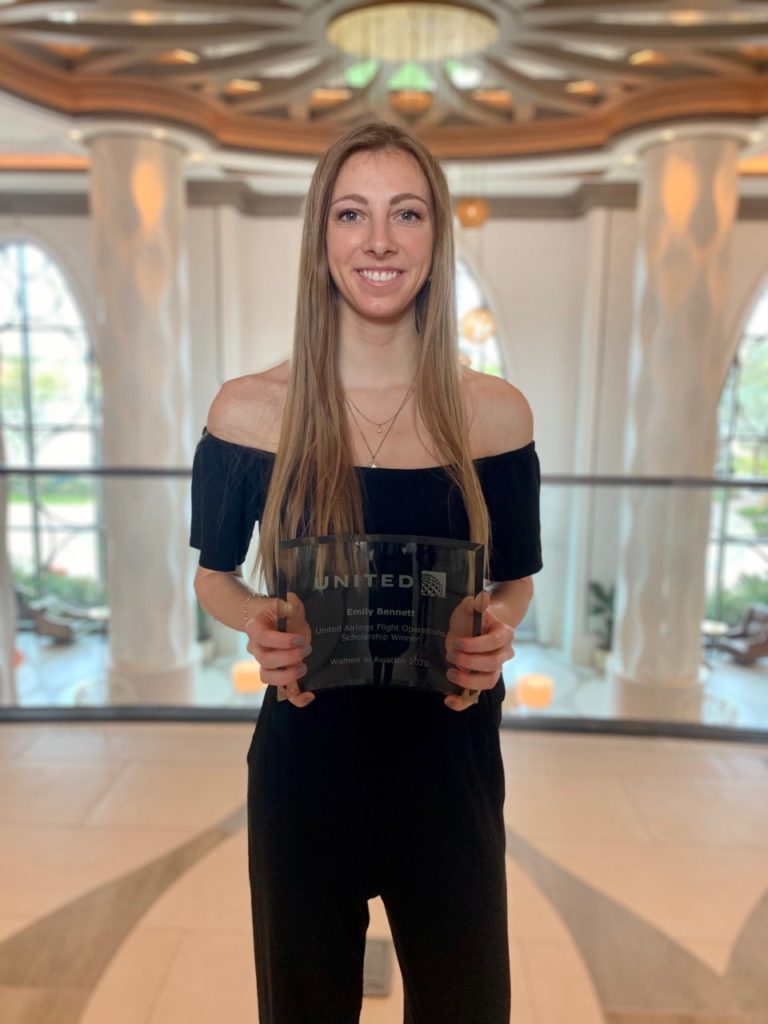 Bennett, who is from Cedar Grove, Wisconsin, and Emery are roommates and both said they are humbled to receive their respective scholarships.
Emery is a first-generation college student. She said that when she toured SIU and the Transportation Education Center that is home to the nationally recognized aviation program, she was knew it was the place to be.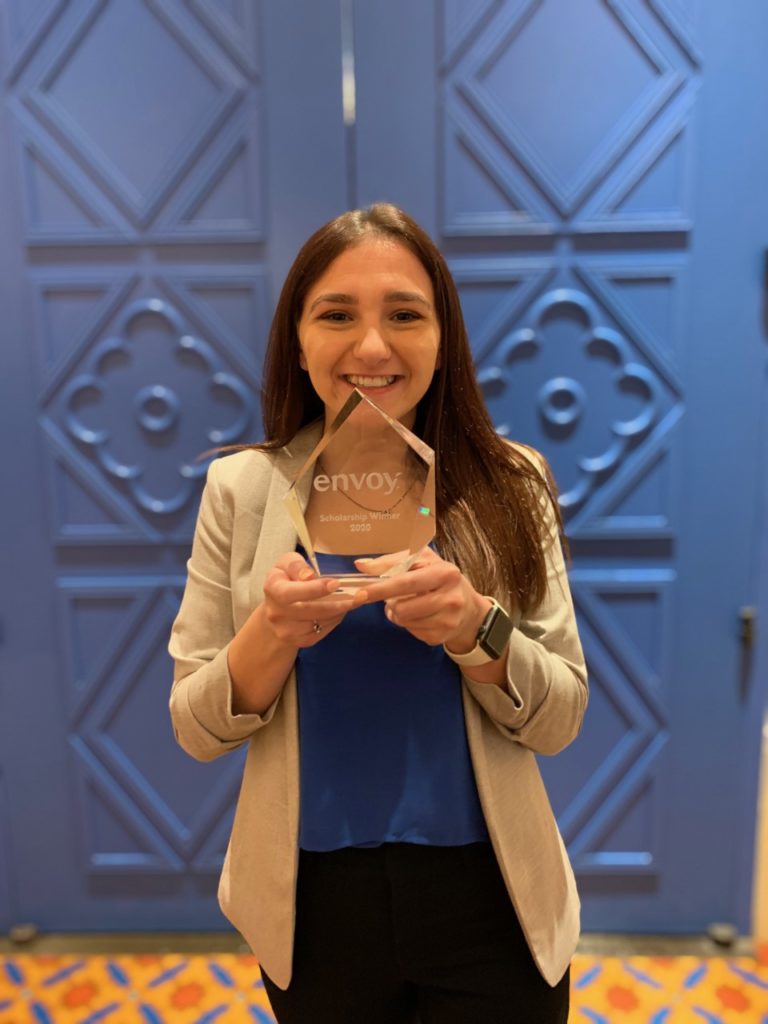 "The aviation program specifically had that family and home feeling … everyone knows everyone, and I loved that," Emery said. "I really have found a second home here in the aviation program."
Bennett, the daughter of Matt and Wendy Bennett, agreed.
"The feeling I got when I first stepped on campus was one that felt like a big university, but also felt like family," she said. "I have had the opportunity to grow and challenge myself at SIU while being supported by the many faculty and staff members that truly care about the students going through the program."
Mike Burgener, chair of the aviation programs, said that the scholarships "could not go to two more deserving students."
"Karlie and Emily are excellent students and we are very proud of them," he said.
Being roommates is beneficial
Emery and Bennett have known each other since they were freshmen but have lived together along with two other female aviation students since last summer. Each said it has made them better students and pilots and closer friends, Bennett said.
"We often find ourselves sitting in the living room practicing teaching each other topics (in preparation for becoming flight instructors), helping explain something to one another or just working on homework together" she said. "We all have so much knowledge, and it really helps to be able to capitalize on what each of us knows individually."
Emery agreed, noting that having roommates who also are in aviation makes it a more understanding atmosphere when it comes to early morning flights.
"Emily specifically motivates me daily to study harder, outside of aviation she encourages me to be more adventurous and hike new places in Southern Illinois," Emery said.
There are 61 females, or about 16 percent, among the 380 students in the aviation management and flight program. The aviation technologies program is 6 percent female.
Future plans
Emery plans to stay at SIU and build her flight hours as a full-time flight instructor. Once she has 1,000 hours she will move onto the regional airlines while forever representing the Salukis.
"The program really had a huge impact on my life, and I only feel that it's right to give back and maybe even leave an impact on a student's experience like in my experience," said Emery, adding that she is now a senior cadet for Envoy Airlines, which is a wholly owned regional airline of American Airlines.
The company is "constantly supportive and I get that home-like atmosphere feeling" Emery said.
Bennett said she also plans to work as a flight instructor and then flying for a regional airline. She sees herself as a pilot for United Airlines as well as taking on some type of leadership position in airline management.
The United Airlines Flight Operations Scholarship is an award that will help me in more ways than just financial assistance. This scholarship has connected me to industry leaders within United Airlines and provided me with connections that will help jumpstart my career," she said.
"I am very grateful to have had the opportunity to represent SIU at the Women in Aviation International conference and accept this award. It is incredibly humbling to be able to be awarded this scholarship at such a prestigious event," she said.