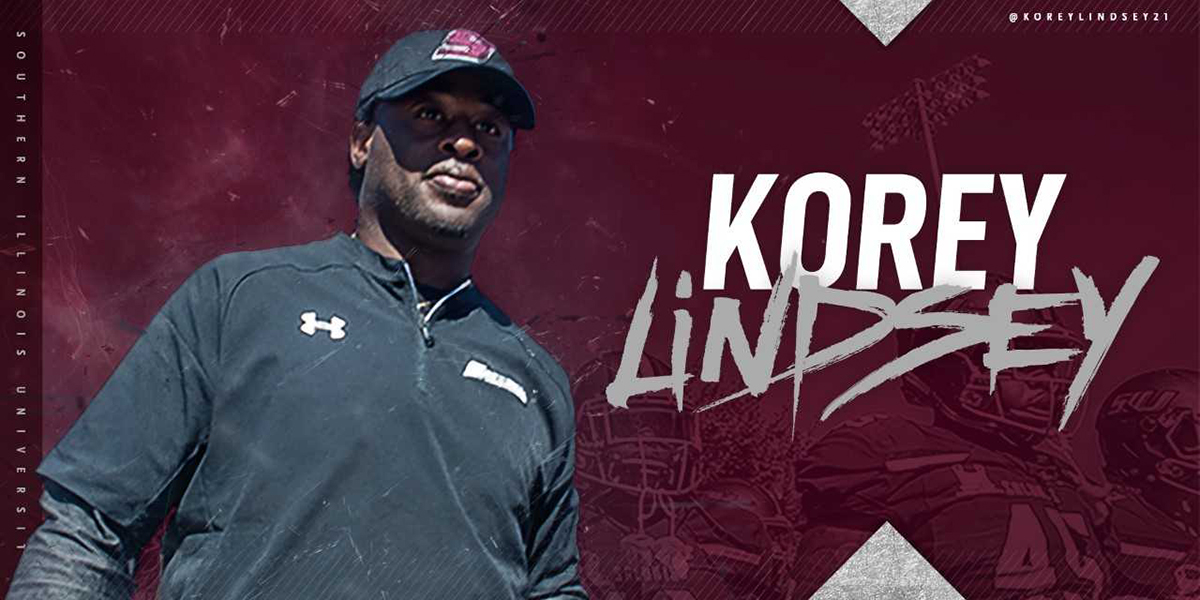 Korey Lindsey's ardent, unabashed love for football led him to Southern Illinois University Carbondale, where he earned numerous honors and a ticket to the pros. Now, after a few years pursuing his passion and making some great memories, the three-time All-American is back at SIU to finish what he started.
Lindsey will be graduating with his bachelor's degree in recreation professions at 2 p.m. on Dec. 15 at the SIU Arena.  It's a proud and exciting moment for the Louisiana native – one that puts him on the road to a career as a coach, just like his father before him.
Standout high school career prefaced All-American accolades
As a wide receiver and defensive back at Scotlandville Magnet High School in Baton Rouge, Louisiana, Lindsey twice won all-district honors and was a two-time member of the All-Metro Baton Rouge first team. On the offensive side, he gained more than 1,100 yards and racked up some impressive defense statistics.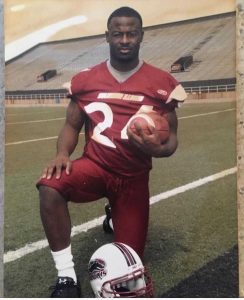 Recruited by Jerry Kill, former coach and now interim athletic director and special assistant to the chancellor, Lindsey joined the Salukis in 2008. He admits to being a huge Louisiana State University fan, but when he visited SIU, he fell in love.
"There is such a comfort level and the school and community have helped me so much. SIU has just been a huge blessing to me," Lindsey said. "I love this place."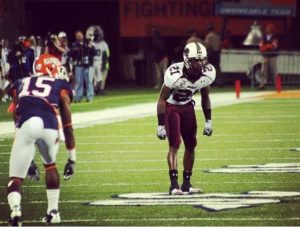 He played in 36 straight games for SIU on the way to becoming one of the university's most decorated players. He won back-to-back Associated Press First Team All-American honors along with numerous other national and conference accolades and is one of the most highly ranked Salukis ever in terms of interceptions, pass breakups and other feats on the field.
Seventh round draftee
Lindsey's accomplishments didn't go unnoticed. He was drafted in the seventh round by the Cincinnati Bengals as the 207th overall pick during the 2011 National Football League Draft.
"I fulfilled my childhood dream," he said. "I got to play the game I love at the highest level. I didn't get rich, but my dream of making it to the NFL came true. It was a great, life-changing experience. I met some incredible people and had some wonderful experiences."
Putting on that orange, black and white uniform and walking out onto the field to join his team in action against the Detroit Lions in his very first professional game is a memory etched deep in his mind.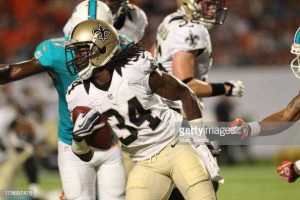 But perhaps his favorite pro moment took place in 2013, his third year. Then a member of the New Orleans Saints, it was "surreal to play in the Mercedes-Benz Superdome, a place that is so special to me, with a lot of my family and childhood friends and teammates in the audience."
Back to school and Saluki football
After enjoying an amazing few years in the NFL, where he also tested his skills with the Arizona Cardinals, Indianapolis Colts, Jacksonville Jaguars, Washington Redskins and Dallas Cowboys,  Lindsey decided it was time to refocus on his other goal and dream.
"I still love the game and want to be a part of it," he said. "I want to be a full-fledged coach."
In short order, he returned to SIU and says a warm welcome awaited him. He resumed classes and found supportive faculty and staff eager to help.
In particular, he said Tina Colson, senior lecturer and recreation professions program director, has been "extremely encouraging and supportive – the best ever" and his adviser and others in the College of Education and Human Services have also been helpful.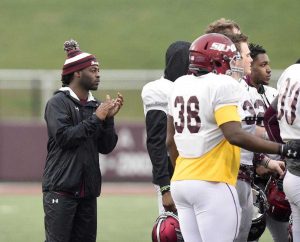 Lindsey was also able to snag an internship with Saluki Athletics, working with Gaizka Crowley, director of recruiting and player personnel for SIU football. He appreciates being able to work with Crowley, as well as with head Coach Nick Hill and safeties coach Marty Rodgers, both of whom were teammates when Lindsey played for the Salukis.
"I'm really grateful for how everyone has welcomed me in, taught me things and respected my thoughts and experience," Lindsey said. "Having Coach Kill back as A.D. is great, too."
In addition to the practical experience he's obtained through the internship, he also writes a weekly reflection paper on his experiences for faculty review.
"When a student athlete is afforded the opportunity to achieve their goal of playing at the next level, we wish them success but also hope that completing their degree will eventually become a reality," Colson said. "For Korey, completing his bachelor's degree in recreation management became a priority that has kept him focused and determined. He recognized the importance in returning to SIU and was able to find an avenue that combined his passion for football with his internship."
Years have brought changes
Returning to the world of academia has not been without its challenges, Lindsey said. In addition to the obvious difficulty of returning to the classroom after several years away, Lindsey also has a lot more responsibilities to juggle these days. That includes daughters Kennedi, 10, and Sevyn, 2, as well as son, Harlem, 7.
"I was a little leery, coming back after seven years away. I wasn't sure how hard the transition would be," Lindsey said. "But I got four A's my first semester and made the Dean's List."
While the past year hasn't been easy, Lindsey has made it work, relying on his faith, sacrifice and commitment. He said he's also matured.
"You have to have self-determination and will and the vision of things in the future as you want them to be, then work hard to make that vision become reality," he said.
"Korey serves as a role model for others with his positive outlook and his diligence in balancing his family life, his career and his educational commitment," Colson said. "It is rewarding to teach a student with the level of dedication Korey has."
College career plans
When Lindsey's fiancée, Tiana Brown, and parents Lisa Lindsey and Keith Woods see him walk across the stage during commencement, Korey is determined it won't be the last time in the foreseeable future they see him in the college limelight.
Lindsey plans to forge his education and experience into a college football coaching career. He's initially looking for an assistant position, perhaps as cornerbacks coach, but his long-term goal is a head football coaching job.