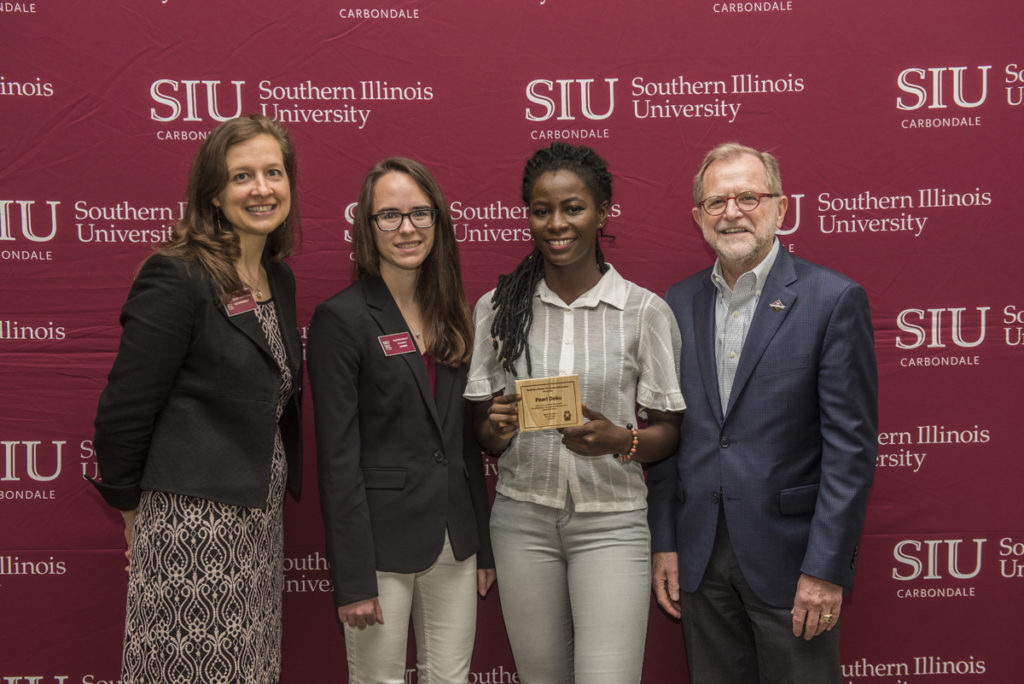 With Africa's population expected to increase to 2.5 billion people by 2050, solid waste management is a serious concern. In lower income countries, waste production is set to double in the next 20 years, with the cost also increasing by upwards of four-times as much.
Few countries feel the weight of this issue more than Ghana, home to the world's fastest growing economy. For Southern Illinois University Carbondale master's student, Pearl Deku, the situation is not hopeless. That is why she is hard at work analyzing current policies and increasing awareness for future change.
Addressing a topic of health and environmental hazard
While policies for waste management in Ghana are starting to gain attention and become a common topic, real change and improvement is still missing. Current research suggests and recommends community participation as a means for waste management, with many studies postulating that involving people in the laws, policies and projects helps to sustain projects.
"My goal is to analyze Ghana's community participation and awareness program/plan for waste management, with specific target on communities in the capital city of Ghana," Deku said. "I will assess Ghana's community participation and awareness program to identify its strength, weakness, threats and opportunities, and hopefully identify what needs to be done and corrected to ensure sustainable solid waste management."
If the daily consumer is not effectively involved in the implementation of laws and policies, the problems do not change or hardly change, Deku explained.
The focus of Ghana's waste problem centers in the capital city of Accra. Home to most of the nation's industry, people flock there on a consistent basis. This not only overcrowds the region, but it greatly increases pollution rates and waste problems
Often, people do not even notice the waste anymore because they are accustomed to it, Deku explained.
"Kids are really victims of the waste build-up," Deku said. "Often the adults have built resistances, but kids haven't."
Tackling the issue head-on
A native of Ghana, Deku has an inside look into the concerns of the nation. After her father died when she was young, she faced many challenging economic circumstances. However, she completed her bachelor's degree from Kwame Nkrumah University of Science and Technology in Ghana, and is currently pursuing her master's degree in geography and environmental resources at SIU.
To gather her information, Deku is targeting specific communities in Ghana and conducting interviews to understand how they are managing solid waste.
Deku's current plan is to focus on three specific communities, holding three focus groups with 10-12 people in each area. She will also interview with the town councils in each of the communities and the head of the waste management in those municipalities.
"For a policy to be successful, it has to do with the individuals," Deku said. "I want to know how people are navigating waste management and what they know about those policies."
Deku plans to travel back to Ghana this summer to conduct her research. While still on campus, she has already started the ball rolling with the interviews, thanks to help from a friend in Ghana.
"My main objective is to identify the exact policies in place for solid waste management," Deku said. "Then I will work to identify community participation programs and evaluate if these policies are actually working."
Building a blueprint for change
The most important part of the project for Deku is to get her research into the hands of someone who can use and implement it. In the research process, it is common to uncover a lot of information, but it isn't always available to those who need it, Deku explained.
"The endgame of my research would be to develop a blueprint from which decision makers from both government and non-governmental agencies can develop frameworks for sustainable waste management," Deku said.
Deku's passion for Ghana and her work to implement beneficial change sets her apart from many of her peers. Leslie Duram, director of SIU's environmental studies program, sees Deku's research as a pivotal topic for the global environment.
"Pearl has developed a clear and actionable research proposal that outlines her research process that will lead to successful to data collection, analysis and completion of her thesis," Duram said. "In addition to her excellent research proposal that addresses an important topic in environmental sustainability, Pearl also represents a graduate student on her way to becoming a global educator."
Winning a variety of awards
In support of her research, Deku recently won SIU's Graduate and Professional Student Council Research Award. The honor comes with $1,000 of funding, which Deku plans to use for her hands-on research in Ghana.
Deku also earned the Environmental Ambassador Award for her exceptional contributions during the academic year, including more than 30 hours of volunteer service hours in the community.
Going forward, Deku plans to continue her education with a Ph.D. in environmental studies, specifically focused in sustainability.