Allison McMinn is the 2019 Lincoln Academy of Illinois student laureate for Southern Illinois University Carbondale.
The Chatham native will receive the Abraham Lincoln Civic Engagement Award during the annual Student Laureate Convocation Saturday at the Old State Capital in Springfield.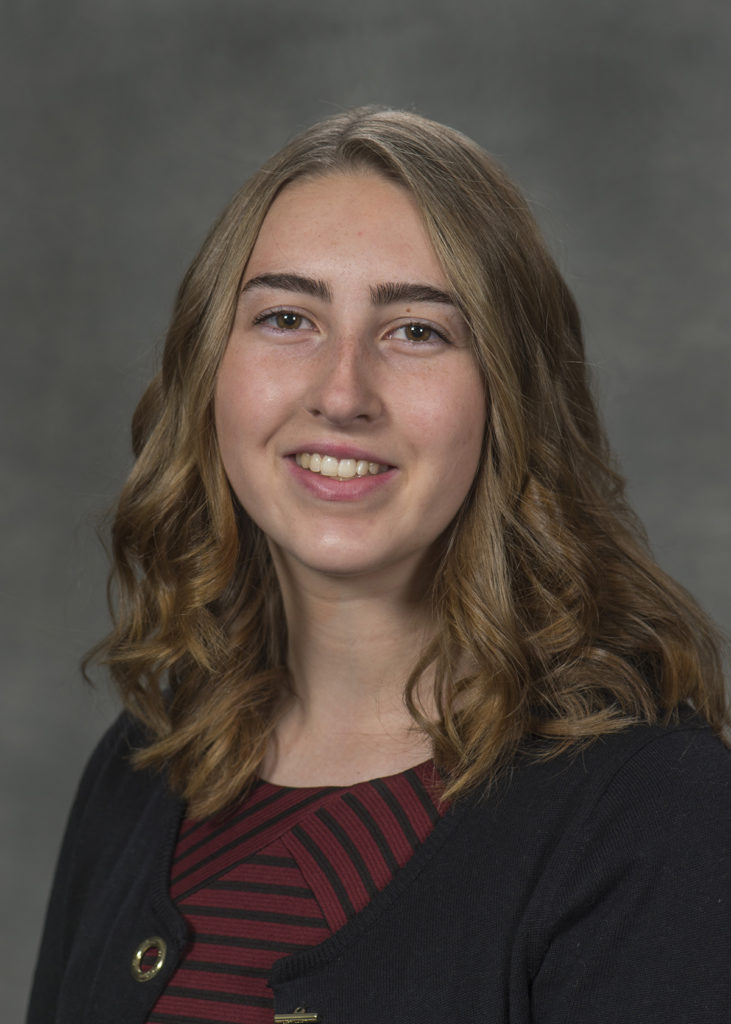 The Lincoln Academy of Illinois presents the award with a medallion, certificate of merit and $1,000 monetary award every year to one outstanding graduating senior from each of the state's four-year colleges and universities, as well as one from the state's community colleges.
Students are honored for their leadership and service in the pursuit of the betterment of humanity and for overall excellence in curricular and extracurricular activities. This marks the 45th year for the awards.
Electrical engineering student
McMinn is a senior studying electrical engineering with a minor in mathematics. She is the daughter of Stephen and Mary McMinn of Chatham.
McMinn began at SIU as a university excellence scholar and served as the vice president of the SIU ATMAE Robotics Team for the 2018-19 school year. She also served as the vice president and president of the Registered Student Organization Society of Women Engineers for the 2018-19 and 2019-20 school years respectively, and was the founder and president of the Biomedical Engineering Society during the 2018-19 and 2019-20 school years.
Undergrad research plays big role
McMinn took advantage of SIU's opportunities for undergraduate research, participating all four years. During the 2018-19 school year, her research on Tomosynthesis Image Reconstruction for Early Breast Cancer Detection won first place in the SIU Creative Activities and Research Forum and first place at the Society of Women Engineers Local Collegiate poster competition. Her research has been accepted as a finalist for the SWE National Collegiate poster competition that will take place this month.
A member of the Tau Beta Pi engineering honors fraternity, SIU also selected McMinn as Ronald E. McNair Scholar.
An SIU booster
McMinn said since beginning her studies at SIU, she has been a proud Saluki and filled with the desire to give back in every way possible. She has enjoyed recruiting other students and taking her undergraduate research around the country to promote the SIU name and reputation at every turn.
"This honor means the world to me," McMinn said. "It tells me that all of the work I have put in did not go unnoticed. The university recognizes and appreciated the hard work that each of their students put in."
Engineering program, faculty provide support
SIU's College of Engineering has played an integral role in her success as a student, McMinn said. The engineering degree program provided resources, research opportunities, hands-on learning and support for active student groups.
"The program prioritizes the success of its students, and its people do anything in their power to make them successful," she said.
SIU faculty played a key role in her success, as well, McMinn said.
"Some in smaller ways like allowing me to ask numerous questions or take make-up tests and quizzes missed during conferences, and others in larger ways like encouraging my research or writing letters of recommendation for honors like this," she said.
McMinn said Ying "Ada" Chen, associate professor in the electrical engineering degree program, played a special role in her development.
"Dr. Chen has taken me under her wing and helped me grow into a well-experienced researcher," McMinn said. "She motivated me to search for new experiences," she said.
She also credited Tarnisha Green, director of the Success in Engineering Through Excellence and Diversity program, with supporting her efforts to be successful in what has traditionally been a male-dominated profession.
"She helped me push to create an inclusive environment for women and all minorities in the College of Engineering," McMinn said. "She has helped connect me with other minority groups, such as the McNair Scholars Program, and has supported me in all of the programs I have pursued and become a part of.
"All in all, I would not be the person I am today without the outstanding support of the faculty in our college of engineering at SIU," McMinn said.
Future plans
After graduation, McMinn plans to pursue a doctorate in electrical engineering and to one day become a professor. She hopes to motivate and support more women to select careers in STEM fields and make groundbreaking scientific discoveries.