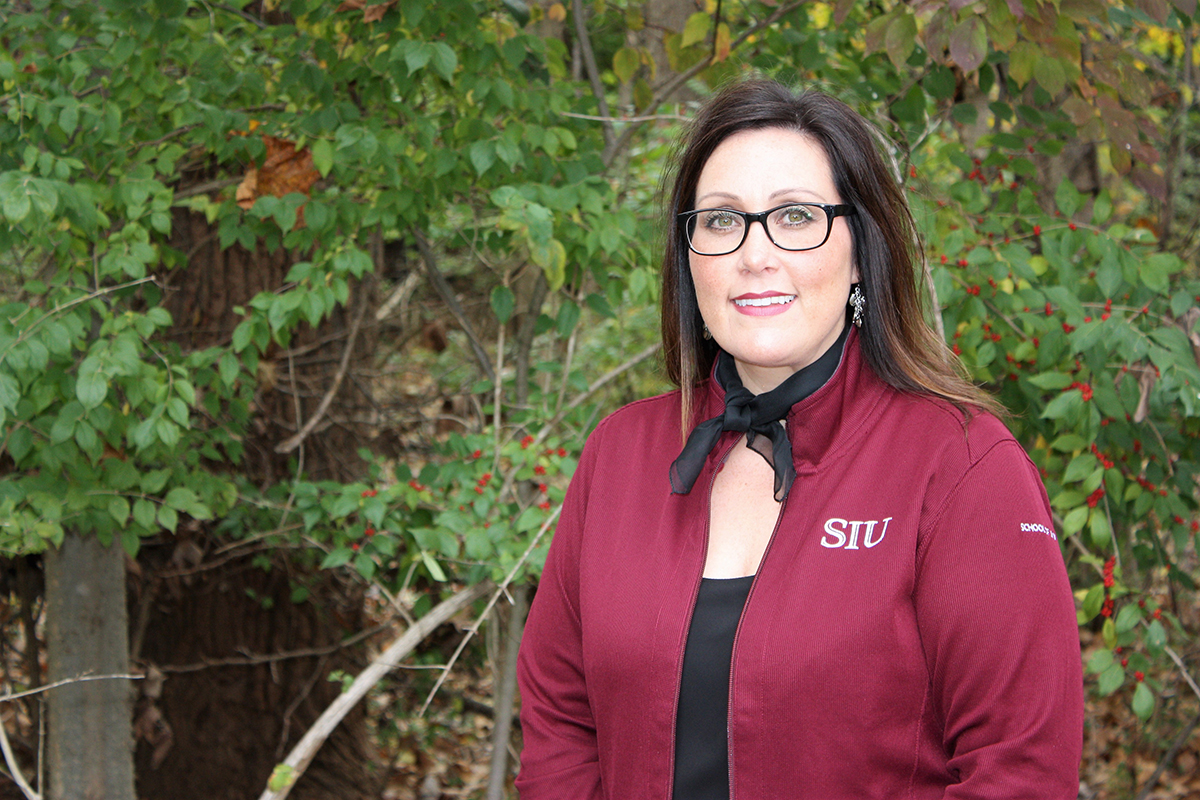 Leading the Pack is a regular feature that highlights faculty and staff members who go above and beyond to fulfill SIU's Mission. If you would like to nominate someone to be featured, fill out our nomination form.
While Akami Eayrs' job description might center on recruiting and admissions, she doesn't stop there. Her goal is to find the perfect fit for every student in his or her educational, housing and financial decisions, and she is willing to get creative and go out of her way to do it.
As director of admissions and financial aid in the SIU School of Law, Eayrs has many opportunities to interact with students and their families. When asked what made the ultimate difference in their decision to come to SIU, students and their parents often say that Eayrs made them feel so welcome throughout the process that it sealed the deal for them.
Working for a bigger purpose
When Eayrs first came to SIU in 2005, she wasn't certain how long she would be here. But after spending just a little time working with students, she was hooked.
"When I started in 2005, my intention was to stay for a few years and then move on, but it all comes back to the students," Eayrs said. "Working at the law school with such a small group of students that you can really see the impact you are making."
After earning her bachelor's degree in communications and public relations, Eayrs worked in the corporate world in Kansas City for a few years. However, she soon began to question her purpose, and after reflecting on her positive experience as an undergraduate student, she wanted to move back into a field where she could make a difference.
"For a lot of people in education, you don't do it for the money," Eayrs said. "You do it for what you get out of it and seeing the students around the law school and really making a difference. I think that is what has kept me here."
A big part of Eayrs' job is to travel across the nation to recruit and talk with potential students, which she feels is a great way to understand their various concerns and questions. When she is not traveling for work, she carries that global perspective on by visiting as many places as possible with her 10-year-old son to increase their appreciation for new cultures and experiences.
Focusing on student success
Eayrs is confident that the future belongs to the next generation of students, and her favorite part is building personal relationships and watching them grow and develop. She might consider herself a bit of dreamer, but that very attitude is what often motivates those around her to reach for their own personal goals.
"I always tell students that if this is what they want to do, they can do it," Eayrs said. "As long as you have the passion for it and the commitment for it, you can do it. And we are here to help you."
For her, students aren't another number on a page or a task on a to-do list. Every student is different, and Eayrs is devoted to building a bond of trust with each one.
After admittance, students often still return to her for advice and assistance on a variety of issues that come up. As soon as they walk in, Eayrs is happy to listen and guide them towards solutions that best support each of their specific dreams and goals.
Representing the SIU community
Eayrs finds the community aspect of SIU to be a vital part of the success of the whole system, which motivates her to serve as representative for sector 3 of SIU's Administrative and Professional Staff Council. As a member of the official representative body for all A/P staff on campus, Eayrs works hard to communicate the various views and opinions of her colleagues.
For Interim Dean Cindy Buys, Eayrs is an invaluable part of the SIU team and demonstrates the essence of true Saluki spirit.
"Akami Eayrs does an amazing job recruiting law students for SIU," Buys said. "She always has a smile and a warm welcome for anyone she meets."
But Buys added, she goes beyond her job description to ensure student success.
"Akami has carried on with her positive attitude despite being understaffed and has been willing to put in the extra hours whenever necessary to make sure that our prospective students have the best experience possible," Buys said. "She comes up with new ideas every year to make the recruitment and admissions process better. She is one of our greatest assets."