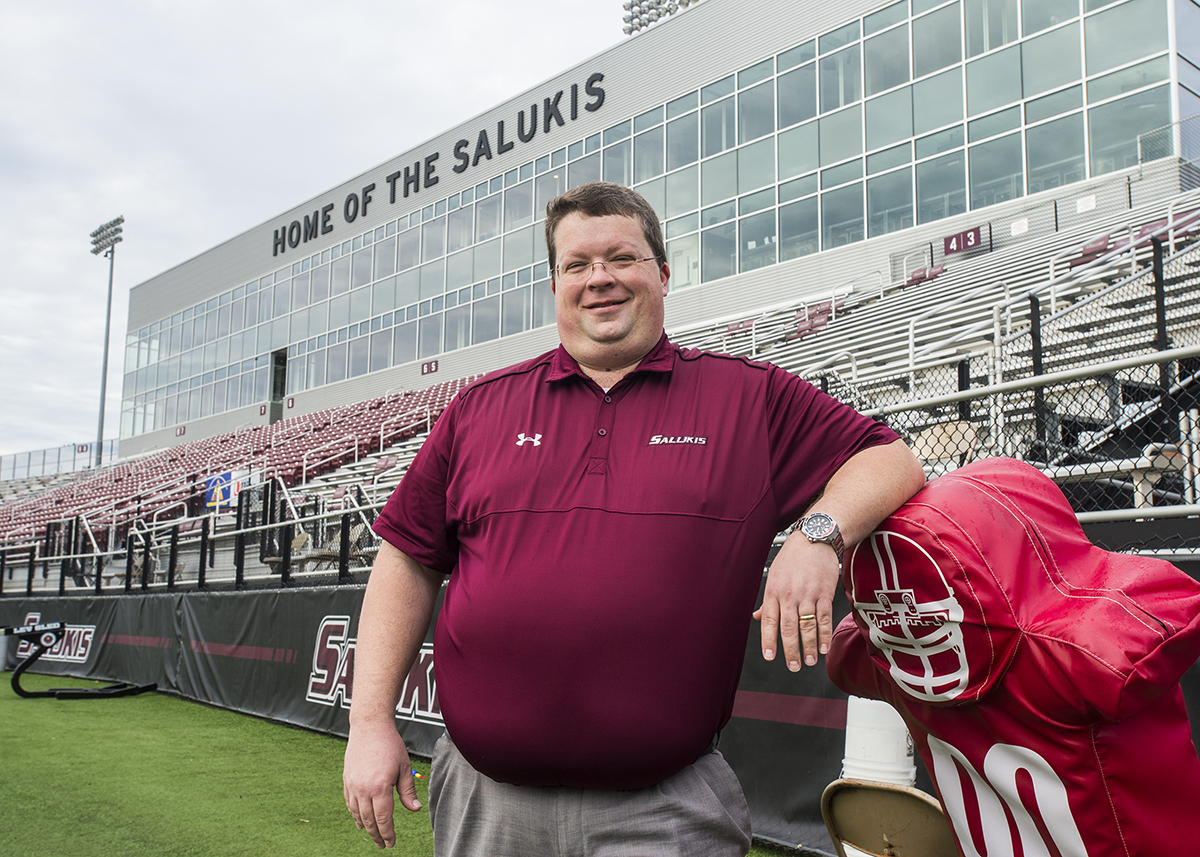 Leading the Pack is a regular feature that highlights faculty and staff members who go above and beyond to fulfill SIU's Mission. If you would like to nominate someone to be featured, fill out our nomination form.
By Pete Rosenbery
Attend a Saluki sporting event or SIU Arena production and chances are you will see Matt Shackleton. Not that he necessarily wants it that way.
For Shackleton, the assistant director who oversees Arena productions and special events, the best moments are when events come off seamlessly. As he works ahead of Saturday night's 2018 Saluki football home opener against Southeast Missouri State, Shackleton maintains that low-key demeanor.
"I've never wanted to be the guy who was out there in front," said Shackleton, who has been with the university since 2002. "I always wanted to be the guy who was behind the curtain."
Providing quality access through various events aimed at improving our communities is among the university's mission. Shackleton's work away from SIU includes nearly 10 years on the DeSoto Grade School Board and, when available, helping the city's little league program and Autism Society of Southern Illinois.
Work ethic is unquestionable
Making sure that live events – from commencement ceremonies, myriad game day sporting events on campus, or special attractions, such as the 2017 total solar eclipse at Saluki Stadium – go off without a hitch and are enjoyable for fans and visitors on campus is Shackleton's focus.
Tad Dunn, SIU's assistant athletic director for facilities, agrees. The key, Dunn said, is that if there are "hiccups and glitches" behind the scenes those are corrected so people leave satisfied.
"Matt's always here," Dunn said. "Even events that he's not assigned to, he is here and always willing to jump in if there is an issue. He is very much a team player and wants nothing but success for Saluki athletics and the university."
Shackleton's duties include primary game operations administrator for women's basketball, volleyball and baseball and he is present for men's basketball and football. Often times, depending on kickoff, that can mean before 6 a.m. on football game days and not leaving for several hours after the game ends.
"I enjoy getting to meet the people because there are always new people coming in and out. It's really fun to get to meet the alumni who have really great stories about how we did things before," he said.
Teamwork is invaluable
Shackletoncredits his coworkers and the trust that each have in one another when it comes to ensuring an event's success. He's grateful for the opportunities SIU gave him to learn the craft and the close relationships that form a tight bond.
"There has to be a large level of trust with the people you are working with to be able to do something that you only get one chance at," he said.
Shackleton points to three specific campus events where quality efforts and teamwork on campus were noticeably visible:
the December 2003 funeral in the SIU Arena for former U.S. Sen. Paul Simon.
the May 8, 2009 derecho that hit Southern Illinois less than 24 hours before commencement exercises. The weather event meant ceremonies needed to be quickly switched to McAndrew Stadium from the SIU Arena and Shryock Auditorium.
the Aug. 21, 2017 total solar eclipse.
Job experiences take him to New York City and Miami
A De Soto native and 1994 graduate of Carbondale Community High School, Shackleton initially majored in accounting at SIU and was a freshman walk-on in football for one season.
After working as a stagehand at McLeod Theater for summer credit hours as a freshman, Shackleton changed his major to theater with an emphasis toward stage management. While still at SIU, he took time to work for various theater companies, including University of Southern Indiana's New Harmony Theatre.
Although he still had a few hours of college credits to go to attain his degree, the stage management and technical direction opportunities allowed Shackleton to work as a production manager and in other theater-related roles throughout the county.
That work included productions at Madison Square Garden and on Broadway at the Helen Hayes Theater, where he helped open "Dirty Blonde." He also spent a couple of years as production stage manager for Florida Grand Opera's youth program, which toured Miami-Dade high school theater classes.
Still, Shackleton had a desire to return to Southern Illinois for family considerations. He returned to SIU in 2002 as technical director and later served two stints as interim director. He moved to Lingle Hall when the event services unit went into athletics.
Wants to be part of community
After returning to Southern Illinois, Shackleton was approached about running for the DeSoto school board. DeSoto is one of four grade schools that feed into Carbondale Community High School District and there was discussion at the time about consolidating the grade schools – an idea Shackleton opposed.
"I believe we are all distinct communities around our individual schools and I didn't want DeSoto to lose that individuality," he said. "I felt that being part of the school board was the best way to help the district maintain its individuality."
Dedicated to the school district
Shackleton has been member of the district's negotiations committee and "quality negotiating has been key to helping the district get through tough financial times" in the midst of pro-rated and reduced state aid while still retaining high-quality teachers, Nathaniel Wilson, DeSoto Grade School superintendent and principal, said.
Shackleton's work includes being part of strategic planning sessions involving board members, parents and community members and helping direct school resources to where they make the most impact on student success, Wilson said.
"The board has done a very good job helping to navigate through those difficult times and is now starting to see better days," Wilson said. "Matt has been dedicated to the district and has given a tremendous amount of his time as a board member to ensure that all students have an equal chance at being successful."
Family is a vital component in life
Shackleton credits his family for their support. His wife, Meghan, works for Southern Illinois Healthcare. His oldest daughter, Bridget, is a junior at the University of Illinois with a dual major in political science and marketing. Ainsley, seventh grade, Max, fifth grade, and Ben, fourth grade, all are students at DeSoto Grade School.
Son Max has autism, which Shackleton said has resulted in an even greater focus on the family.
"Before, it's a feeling. It's something that you know you need to be there for your family," he said. "It helped me learn that I have to focus on that, and focus on the family."