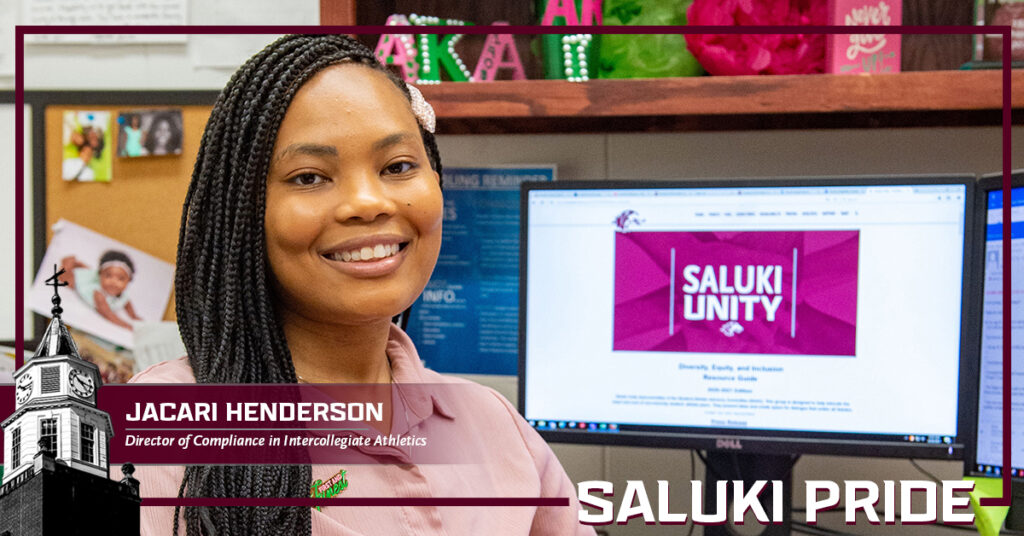 For Jacari Henderson, going to work at SIU was all about service and giving back to an institution that has done so much for her personally and professionally.
A Carbondale native, Henderson works as director of compliance in Intercollegiate Athletics at SIU. She started working at SIU as a student at the Recreation Center in 2009, before moving into positions as an academic mentor in the Saluki Summer Bridge program, a graduate assistant in TRiO Student Support Services, Admissions Coordinator in 2018 recruiting in Missouri and Metro East of Illinois, and as a coordinator in her current office. She became the director of that office this year.
Liz Jarnigan, director of Intercollegiate Athletics, said Henderson has stepped up as a leader in the department's diversity, equity, and inclusion efforts, organizing several programs and panels for student-athletes, staff, and the greater community, including Black Excellence, Women's Excellence and Mental Health. Also, she has partnered with Banterra Bank to arrange financial literacy forums for student-athletes and staff.
Get to Know Jacari Henderson
Name: Jacari Henderson
Department and job title: director of compliance in Intercollegiate Athletics
Years at SIU: 8
Give us the elevator speech for your job on campus.
I am responsible for developing an overall athletic strategic plan for monitoring all rules, initial eligibility, admissions, and regulations that pertain to the athletic program and student-athletes.
What is your favorite part of your job?
I enjoying working with students and families to provide the best quality of services possible. Recently, I have been chairing some of our diversity initiatives which are imperative and significant to me.
Why did you choose to work at SIU?
As a double alumna and first-generation student, I love all that SIU gave to me, I aim to give a portion of what was poured into me back to the university. SIU has a way of becoming your family away from your family. SIU motivated me to pursue all of my personal and professional endeavors in life. Once a Saluki, always a Saluki, and as a Saluki, I will do what I can to help.
What do you do in your free time?
In my free time, I enjoy spending time with my family, friends, and reading. Currently, I serve as the President of the local graduate chapter Gamma Kappa Omega Chapter of Alpha Kappa Alpha Sorority, Inc. I enjoy spending time doing community service, bonding with my sorority sisters, and being of service to my community. In addition, I love serving in my church, Hopewell Missionary Baptist Church as a Trustee and Chief Financial Secretary. Recently, my sister Jariah and I started a nonprofit (Sisters Inspiring Success) and podcast entitled SIS Talk. Lastly, I have been serving in the Southern IL leadership institute that is equipping our local leaders with skills, diversifying boards, and improving services in non-profit organizations in the communities we serve.
What are your goals for the future?
Some of my future goals include owning serval businesses, including financial services, real estate agents, insurance agents, and assisting several nonprofit organizations that serve the community that I am a product of. In anything that I do, I would like to effect change, make a difference and serve as a social advocate. Also, I would like to serve as a director of an academic affairs program.