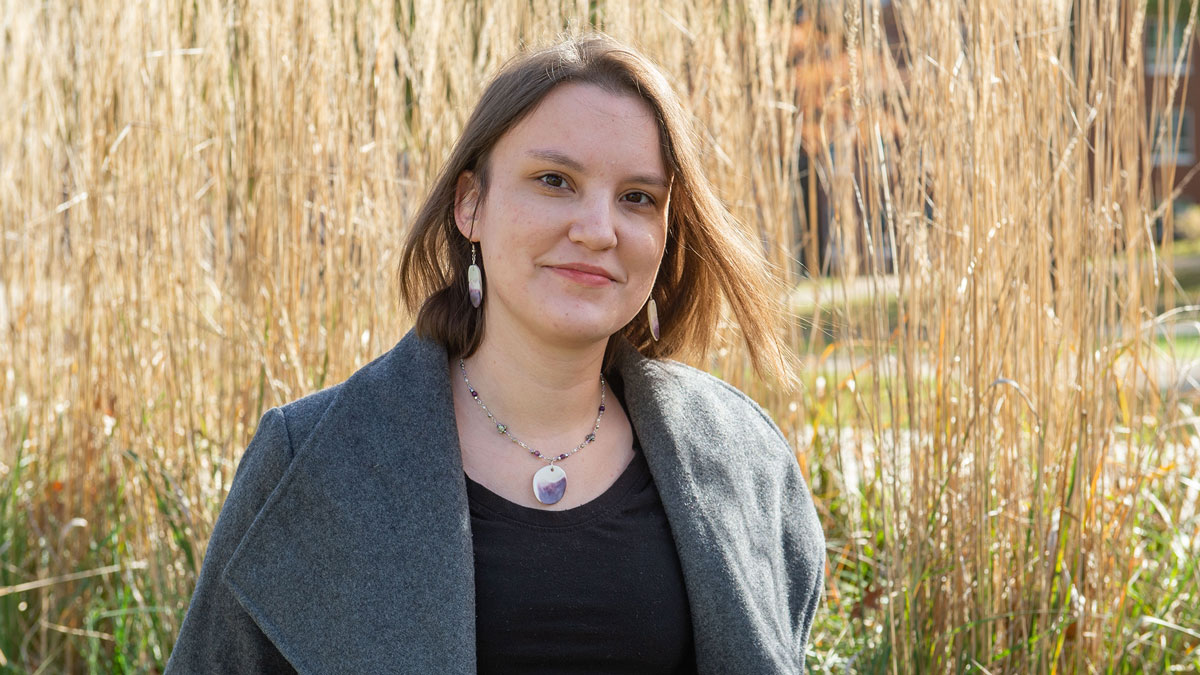 An Oneida Iroquois, Maggie McMullen, grew up in a small Illinois community with no Native Americans nearby except her family. Yet she remains deeply entrenched in her culture, and as she prepares for a future that she anticipates will include serving her people, she said she's found the perfect place to do so at Southern Illinois University Carbondale.
A history major with a minor in international studies, McMullen, of Summerfield, Illinois, is the winner of SIU's 2023-2024 Native American Scholarship.
"Through her words, we were able to see how passionate Maggie is and how important it is to share her culture and give back to her community through education and acts of service," said Maxbiya Washte Wiya, a member of SIU's Native American Scholarship Committee. "It was easy to see that she had lived experience within Indigenous communities and wants to use those experiences to help others understand who Native people are today or shed light on systemic issues that Natives face."
It all began in Wisconsin
McMullen's parents both hail from Wisconsin – her father from the Hartford area and her mother from around Kenosha. Her mother joined the United States Air Force and after they married, her father enlisted as well. They soon transferred to Southern Illinois where Maggie's father made a career in the military. Maggie and her eight siblings relished their childhood years as Maggie spent her free time hiking, doing cross stitch and listening to music. She worked at a local formal wear store during high school, was a member of National Honor Society and got involved in various volunteer activities, including assisting with Relay for Life and blood drives.
And every childhood summer, Maggie and her sisters would travel north with their mother to visit their grandmother on the reservation near Green Bay.
"I always enjoyed the time I spent there with my family, going to pow wows every summer and learning about my heritage," she recalls. "I've always been interested in history. I want to understand human psychology and why the world is the way it is. People say history repeats itself and to a large extent, I think that's true, but I would like to understand why. I think it's important to study history, to study the past and learn from it so we don't repeat the mistakes of the past. I also think it's important to appreciate the past and what people went through and learn about and embrace our culture."
Plans to give back
McMullen's goal is to give back, sharing her knowledge by eventually working at the Oneida Nation Museum on the reservation and perhaps at other local museums in the Green Bay area. After graduating from Lebanon High School, she pondered where to go to college to prepare for her dream vocation and SIU first caught her eye because it's close to home but not too close and she had heard great things about the university from a sister-in-law who is a graduate and a sister who attended.
"I just really like the campus. It's so pretty," McMullen said.
Something else drew her to campus as well. She sensed a caring environment.
"The support that I receive from SIU reminds me that the community I am a part of no matter how small it may be, is not forgotten," McMullen said. "For that, I am forever grateful."
She said she's especially appreciative of the encouragement she's received from Gray Whaley, an associate professor of history who has researched and teaches about Native American history. She noted that the Financial Aid Office has been extremely helpful as well, despite having to handle a lot of paperwork staffers aren't accustomed to.
"Nobody on campus has ever treated me any differently," she said.
Each November, SIU recognizes Native American Heritage Month with a variety of special activities, guest speakers and more. It's one of many celebrations the university hosts throughout the year to commemorate various segments of the campus population.
McMullen is herself a dedicated, hard-working student, earning a spot on the dean's list, officials said. For two consecutive years, she has earned SIU's Native American Scholarship, established in 1997 by Iris Creasy, then-president of the American Indian Association.
"Maggie may be the only Native American student to ever approach the learning of Native history so seriously in Illinois," said Dorene P. Wiese, president of the American Indian Association of Illinois and Native American Education Services (NAES) College Inc. and a member of SIU's Native American Scholarship Committee, which is comprised entirely of Native Americans. "Her work will further the preservation of her heritage and share with others the untold narrative of a student embracing the past and caring about the future seven generations, as her ancestors envisioned."