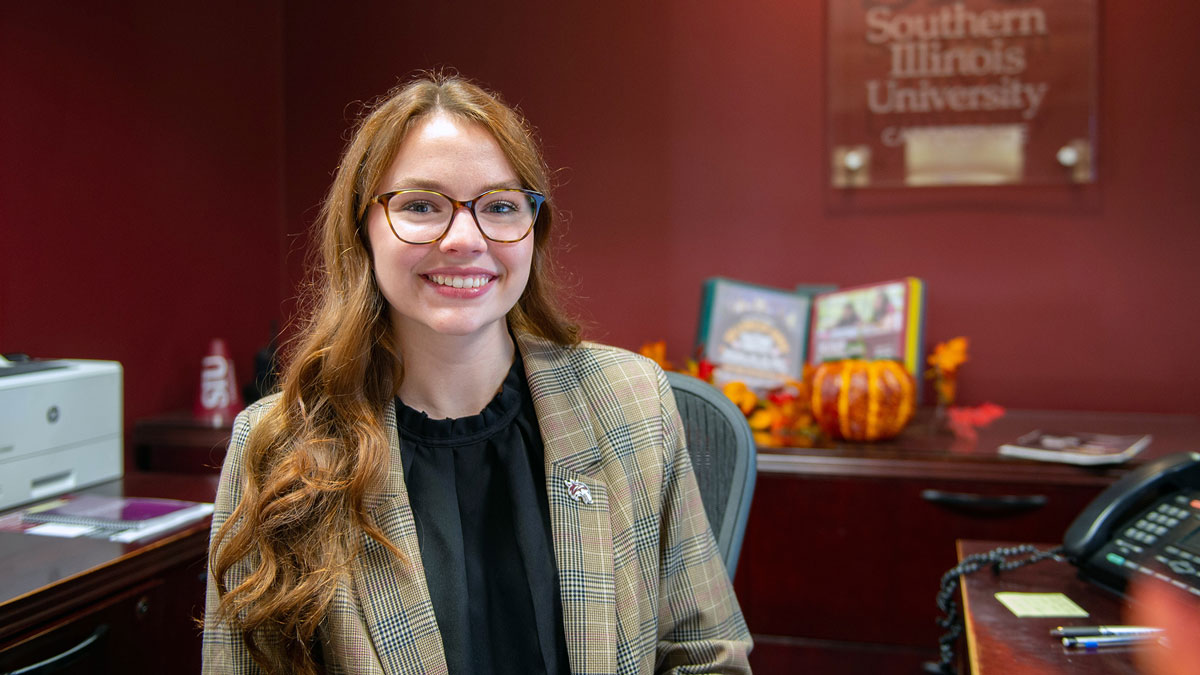 As the daughter of a longtime elected official, Southern Illinois University Carbondale junior Audrey Gulley said she was already interested in politics and public service, but when she got involved in the YMCA Youth in Government program as a Sesser-Valier High School student and won the position of president of the Senate, she was hooked.
"It changed the trajectory of my life," she said.
Now, she's preparing for a career working in the legal system, where she plans to advocate for those who need someone to speak for them, and she said SIU Carbondale and its Provost's Scholarship are helping pave the way.
A Saluki family
Audrey said her parents have both been huge influences in her life. Her father, John, served for many years as Franklin County treasurer before becoming Rend Lake College controller and then chief financial officer, while her mother, Nancy, is an SIU pre-kindergarten teacher in Sesser. Perhaps it is no surprise that she chose their alma mater when it came time for college.
"Both of my parents went to SIU," Gulley recalls. "While they both had very different paths at SIU, they both always talked about SIU with excitement and fond memories. From a young age, I knew that SIU was where I wanted to go to college."
She first went to Rend Lake College and initially chose political science as her major. But she said she had long been told to choose major she truly loved, and after participating in a psychology class led by an inspirational professor, she chose a different pathway when she graduated from RLC and transferred to SIU in fall 2023.
"I found psychology fascinating and really enjoyed it," she said. So she became a psychology major with minors in paralegal studies and pre-law.
"I love it here," Gulley said. "Before I even stepped foot on the SIU campus for my first semester, I had been in contact with so many people who were there to help me succeed in every area of life. SIU ensures student success and wellness. I chose to come here, where I would be a valued individual within a large community. Now, my choice to go to SIU has been reinforced by the student resources, events and overall feeling that SIU gives to students."
Very involved
Gulley is active in a wide variety of organizations at SIU, including the Pre-Law Association, the Women's Leadership Council Board of Directors, the University Honors Program, the Paul Simon Public Policy Institute Ambassadors and Pre-law Scholars Program. She was recently appointed parliamentarian for Undergraduate Student Government, and she has a student employee position in the Chancellor's office. She also remains involved in Youth in Government as a staff parliamentarian.
It's a lot to balance, but she said she's had a lot of practice juggling responsibilities and she's also getting a lot of support. During high school, while keeping up with studies and sports, she worked for three years at Bagels and Brews in Sesser, serving as manager for much of her tenure.
Dawn Korte, who serves on the Women's Leadership Council, has been a great resource and help to her as has Jodi Boese, administrative associate to the chancellor, she said.
"Jodi is supportive. She roots for me and the other girls who work for her and helps us so much," Gulley said. "The professors have been so wonderful, too."
Earning a Provost's Scholarship, which covers tuition and mandatory fees for two years, has largely eliminated any financial concerns about college, and she's most grateful.
"Being a Provost's Scholar has been one of the biggest blessings in my educational career so far," Gulley said. "It took such a burden off me and my family. SIU made me feel at home the minute I stepped on campus. I just love it here, and I'm very proud of this scholarship."
Giving back
After completing her undergraduate degree, Gulley plans to go on to obtain her law degree at the SIU School of Law because her goal in life is to help people by focusing on victim advocacy and advocacy in general.
"I want to work with a nonprofit organization, reaching out to survivors, minority groups, oppressed individuals and social outcasts, empowering them and giving a voice to people who don't have one," she said. "I always had an interest in politics. I grew up in it, and I feel like I have some leadership skills. But I realized that you can't lead well when the playing field is too uneven. You need to meet people where their needs are. Even at 17, managing a coffee shop, I learned it was important to meet people where they are."
She hopes to someday become a judge, dispensing justice fairly to all.