You might not be accustomed to seeing pictures, facts and articles about pigs on your Facebook feed, but one student is spending the next several months sharing important information to bring awareness to the pork industry.
Kathryn Helmink, a senior in animal science at Southern Illinois University Carbondale, was one of 13 college students recently chosen to represent the #RealPigFarming Student Social Forces team for 2019. The group of students span across 10 colleges nationwide, and are uniting to drive advocacy for pig farmers everywhere.
"My goal is to help educate people about pork," Helmink said. "If I could assist in changing someone's thinking about pigs that would be a success for me."
Working with the national legislative program
As part of the National Pork Board and Pork Checkoff, a legislative program sponsored by the United States Department of Agriculture Agricultural Marketing Service, the campaign gives a platform to pig farmers, academics, youth, veterinarians and allied industry members so they can share helpful information about the modern pork industry.
With so many misconceptions coming from consumers, the goal is to clear up wrong ideas and facilitate beneficial conversations. The student portion of the program runs July through December, with the students earning a scholarship at the completion of the semester.
"Educating people about agriculture is very important to me," Helmink said. "This is focused more on pork, which is something I particularly love."
Advocacy through social media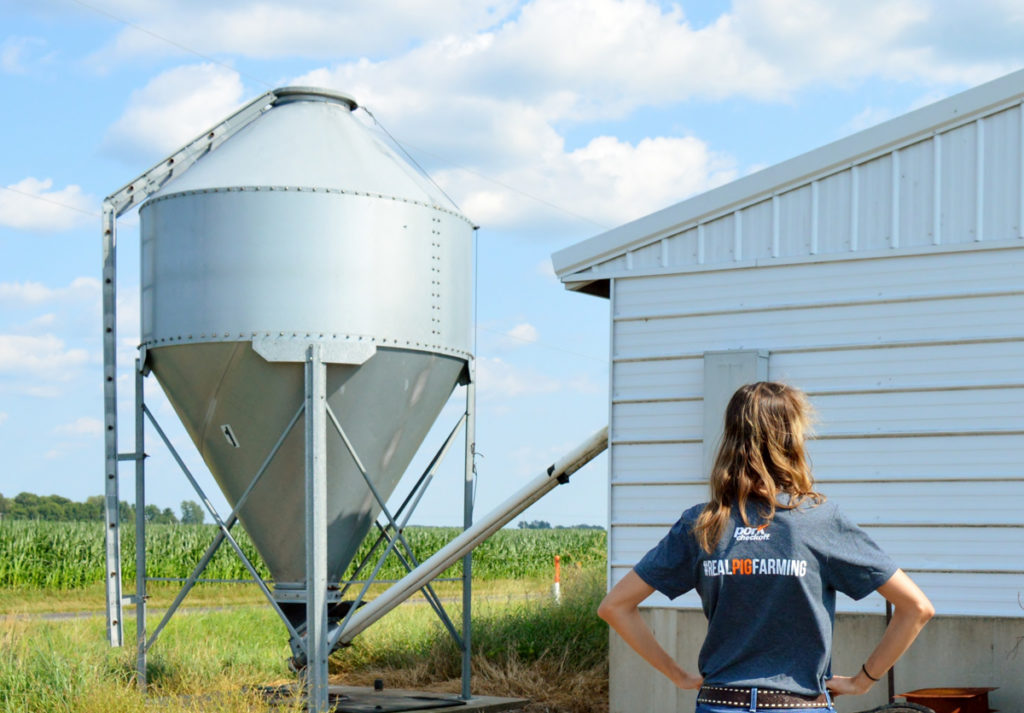 Helmink's job is to promote the pork industry through social media posts, shares and comments. By utilizing platforms such as Twitter, Facebook and Instagram, she hopes to bring further education to those who may not know much or be involved in the field.
"We are using the #RealPigFarming line with all of our posts so people can find the info and build awareness to the topic," Helmink said.
Every month the team posts based on a mutual theme. They are starting with addressing pork nutrition, along with sharing other helpful facts about the industry and pigs in general. In September, the students all attend a meeting in Des Moines, Iowa with the National Pork Board to discuss the campaign.
Long-time focus on pigs
Growing up on a pig farm in Montrose, Illinois, Helmink was more than accustomed to caring for the 1,000 pigs that passed through every year. From a young age, she spent many hours sorting and loading the pigs, helping young piglets start on feed and caring for hogs that came down sick. She also showed pigs as a 4-H member at the local county fair.
She started her agriculture journey at Lakeland College, before transferring to SIU to study in the animal science program.
Through it all, Helmink's focus stayed fixed on the welfare and care of the animals. From that motivation, she jumped into the #RealPigFarming Student Social Forces team with the goal of bringing clarification to the pig and pork industry.
"From this campaign I want the public to know that we producers care very much about the animals," Helmink said. "Animal welfare and animal care is our number one priority."
Helmink hopes her part of the campaign helps to share this truth and bring further enlightenment to consumers and the public in general.
A member of the SIU Equestrian team, SIU's chapter of the Collegiate Farm Bureau and the Block and Bridle club, Helmink stays active on the animal side of campus. Following graduation, she hopes her career stays centered on pigs, with plans to work as a production manager trainee at a pig farm, before eventually moving into a manager position.