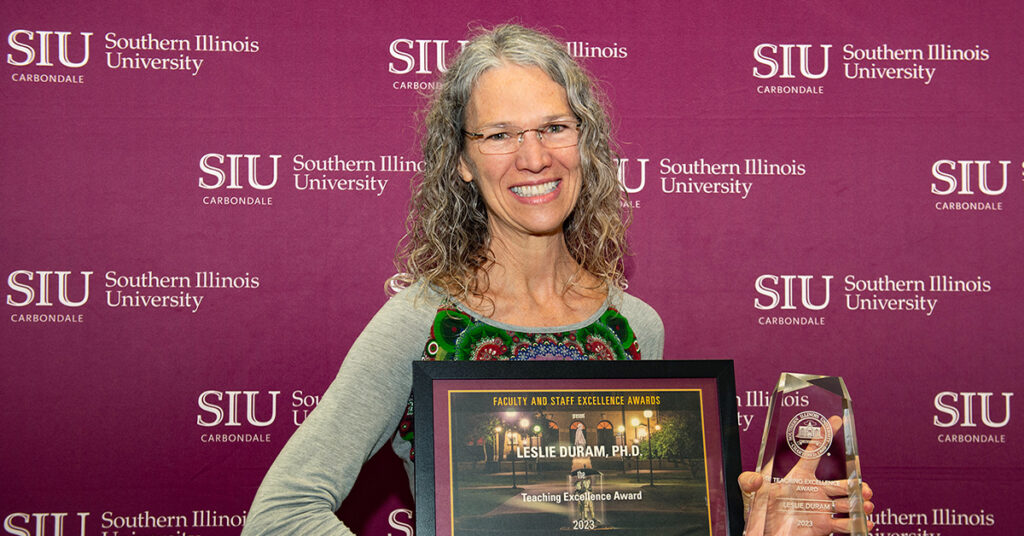 Leslie Duram, professor in the School of Earth Systems and Sustainability, is this year's winner of the university-level Teaching Excellence Award (Tenured/Tenure Track) at Southern Illinois University Carbondale.
Justin Schoof, director of the school, said he has deep respect for Duram's abilities as a scholar, teacher and colleague.
"From my vantage point, she contributes greatly to the success of our students, both within the geography and environmental resources program and more broadly through her involvement in interdisciplinary programs," he said.
The award recognizes faculty for the high quality of their performance in the classroom, their innovation and commitment to student learning outcomes, and inclusive excellence in education. Current, full-time teaching faculty who have been with the university at least five consecutive years are eligible.
An SIU faculty member for nearly three decades, Duram teaches classes in social science research methods, social and political aspects of climate change and a popular class, Contemporary Issues in Environmental Studies. She has mentored more than 50 graduate and doctoral students, published more than 40 peer-reviewed journal articles and delivered more than 60 conference presentations.
Get to know LESLIE DURAM
Name: Leslie Duram
Years at SIU: 28
What do you enjoy most about your work at SIU?
I've been at SIU many years, and I've met many wonderful colleagues and students. Overall, I love teaching environmental geography. It's extremely rewarding to meet students and figure out the best way to "reach" each person with environmental information that is relevant to them.
I like to guide students so they learn about and discover environmental solutions, especially related to climate change. There is so much gloom and doom about environmental issues. It's easy to feel overwhelmed. Let me be clear: Most data about human-caused environmental problems is factually alarming! So, after I teach these somber facts, then I focus on solutions.
It's important to help students discover what they can do individually and what we must do as a society to solve these local-to-global environmental problems.
I'm happiest when I am …
Traveling! I love to visit new places, especially natural areas for hiking and quiet beach areas for snorkeling. Most of all, though, I love to return to Ireland as often as possible. About a decade ago, I received a Fulbright Fellowship that funded me to teach and do research at the National University of Ireland Galway. So, my family moved to Galway, and I taught at the university there for a year. We had a wonderful experience, and Galway still pulls us back for visits.
My favorite activity away from work is …
Running. It feels like freedom. A good run helps reset my brain, reduces stress, and is almost like meditation. After a run, I feel awake and energetic. Then I come home and read more shocking data about climate change, which underscores my determination to teach others and to take immediate action.
What are three things you cannot live without?
Absolutely my husband (Jon) and two kids (Kyle and Marty).