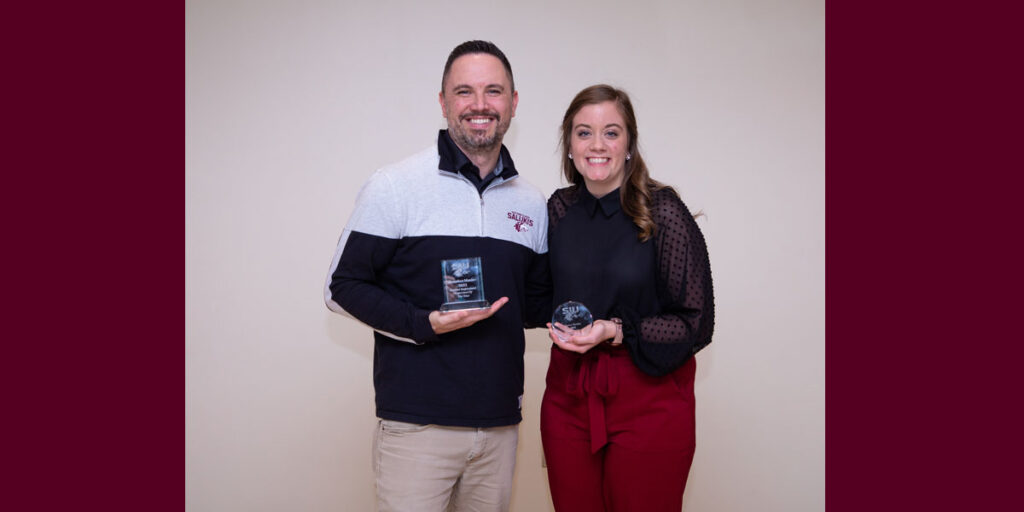 Taylor Hartke, a senior from Teutopolis, Illinois, is the 2022 Southern Illinois University Carbondale Student Employee of the Year. She is working toward her bachelor's in agricultural systems and education while minoring in communication studies and agribusiness economics.
"It was extra special to be recognized for this award while two of my supervisors, Brandon Macier and Malea Bailey, were also getting recognized for their outstanding work as student supervisors," Hartke said. "I've truly been provided with opportunities where I feel valued, find joy and gain knowledge. I feel so very lucky to have landed where I am surrounded by so many exceptional people and peers!"
High-level dual position
Hartke currently works in the Student Center marketing office, where she is the face of a lot of the social media channels. She is also an office assistant in the College of Agricultural, Life, and Physical Sciences dean's office spending her days assisting with social media and doing clerical work.
"My on-campus employment has provided me with so many valuable opportunities to challenge myself, gather new perspectives, explore career potentials, and grow as a student and young professional," Hartke said. "I am truly grateful to work alongside so many great mentors and peers."
Hartke is goal-oriented, according to Malea Bailey, the media coordinator for the Student Center. Hartke's motivation and drive at her current job will set her up for success after graduation, and she can also stay level-headed and maintain her professionalism in any environment, Bailey said.
"Her current role in social media management is a perfect tie into her future career," Bailey said. "Taylor has been able to successfully bridge two industries to create a useful experience for herself. She will thrive in whatever position she fills."
Strong leadership skills
Hartke is also a Saluki Ambassador, Agbassador, 2021 Sigma Alpha sorority president, serves on the collegiate farm bureau and much more.
Hartke leads by example, according to her co-workers; she is a natural leader.
"Taylor is very mindful of making sure all different facets of SIU are visually represented on our media channel," said Bailey. "When we have our Saluki Meetup events, Taylor is the first person to walk up to students with an inviting smile."
Hartke has increased the attendance to those events, Bailey said.
Also nominated in 2022
Hannah Binnion and Zakk Welsh, both seniors majoring in human nutrition and dietetics and both minoring in psychology, were runners-up. Binnion works in food service and as an office assistant for University Housing. Welsh is the departmental manager for University Housing.
The other students nominated for this year's Student Employee of the Year award are:
Natalie Daniel, senior, Cooperative Wildlife Research Lab
Lauren Wells, senior, Registrar's Office
Caitlin Kochan, senior, Dean of Students
Kaylee Anderson, senior, University Housing
Malissa Huddleston, senior, Registrar's Office
Savannah Valerius, senior, School of Medicine
Clay Sanford, senior, University Communications and Marketing
SIU Supervisor of the Year award
Brandon Macier, assistant director of marketing in the SIU Student Center, received the 2022 Supervisor of the Year award. Macier has been a very inviting supervisor, said his staff. He doesn't exclude them based on their major but rather gives them a space to excel, learn and improve for the real world.
Macier is a very productive and caring supervisor, according to Hartke; he goes above and beyond for his staff enthusiastically. Additionally, Hartke said, Macier helps his staff to be better students, employees, and people.
"Regardless of what is on his plate, he takes time for the students. In fact, he is constantly asking how we're doing and making sure that we are each doing well," Hartke said. "He kindly uses his own funds to even stock a snack shelf. He helped one of the students, Brittany, when she was experiencing car issues, and he worked to create a fun sign to use when attending our team member Laura's dive meet. In short, he cares. He cares a lot about his students and staff."
Learn more about Office of Student Employment
The Office of Student Employment supports student employees and student employee supervisors at SIU. On-campus employers who would like to post a student employment position or have questions about how to hire a student employee can call 618-453-2391.
Current student employment openings can be found in the Hire a Saluki platform on Handshake using the on-campus filter. Nominations for the 2023 Student Employment Awards can be submitted next January at studentjobs.siu.edu.