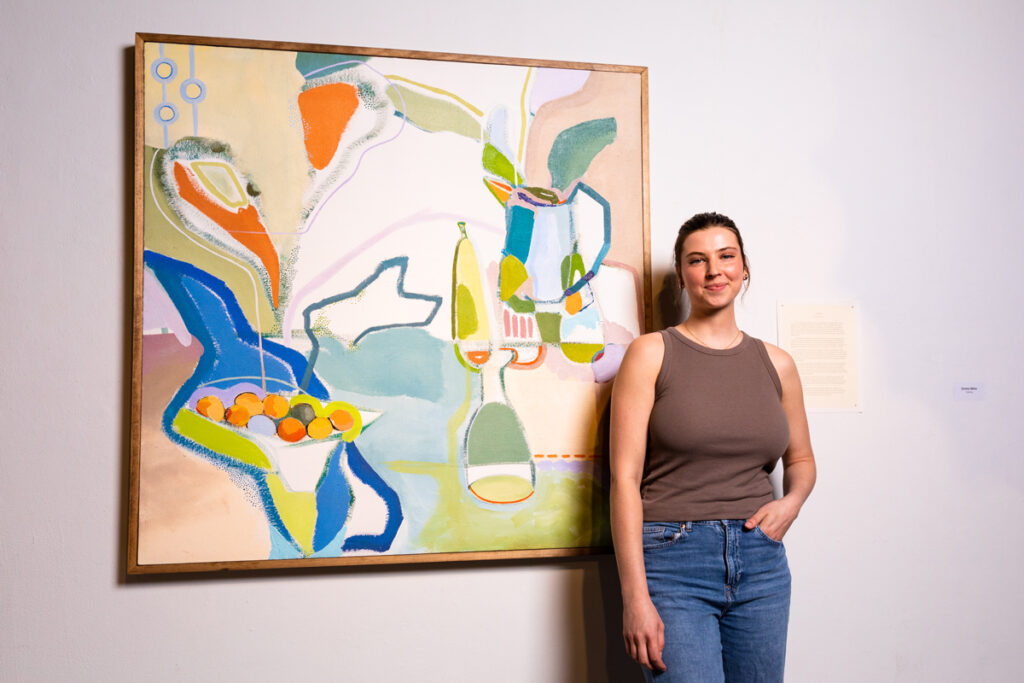 Emma Metz, a senior in painting, and Lacie Schneider, a December 2022 art education graduate, earned the 2023 Rickert-Ziebold Trust Award from Southern Illinois University Carbondale's School of Art and Design.
"I'm in shock," said Metz, who is from Makanda. "I've been working really hard, and my professors have helped me cultivate this work for a long time. I'm just honored to be one of the winners."
Schneider, who is from Waterloo, believes the artwork that someone produces "is a way of giving their audience a piece of their identity."
"I feel very honored that my art spoke to the judges, and I know that my message was appreciated. I value the narratives that I share, and it's nice to see my ideas being valued by others," she said.
The works by Metz, Schneider and four other finalists will be celebrated with a reception and award presentation on Friday, April 21, at the SIU Surplus Gallery, 432 S. Washington St., Carbondale. The reception is from 5:30 to 7:30 p.m., with the award presentation at 6:30 p.m. The exhibition is open to the public from 11 a.m. to 3 p.m. April 17-21 and 10 a.m. to noon Saturday, April 22.
Metz, Schneider to share $15,000 prize
Metz said that a lot of her work is deconstructive still lifes and landscapes with influence from Cubism and surrealism. Her collection of oil and acrylic with oil pastels drawn over in her pieces represent "artistic tools of resistance to the abuses of 21st century society," Metz wrote in her artist statement.
In challenging photo-editing software and other social media filters that can distort reality, Metz wrote that her paintings "depict objects whose possible meanings change in front of the eyes of the people who look at them."
"I want to highlight the pressingly important job given to artists, the transformation of our processes and traditions to speak to a world in unending crisis," she wrote. "My oils and acrylics might physically lay static on the canvas, but my individual, creative use of them seeks to move the world."
Telling a story
Schneider explained her recent art has focused on representing "the need for environmental justice in Illinois."
"The nature that remains in Illinois has given me my best memories," Schneider said in her artist statement. "Soon I will be moving to Minnesota, so I was really excited for the opportunity to have a space in the RZ exhibition to represent my emotional ties to Illinois. I have used my space in the exhibition to give thanks for what Illinois' natural spaces have given and taught me."
Each piece of her installation works together to tell a story and is meant to be viewed from left to right, following bison on the wall, she said.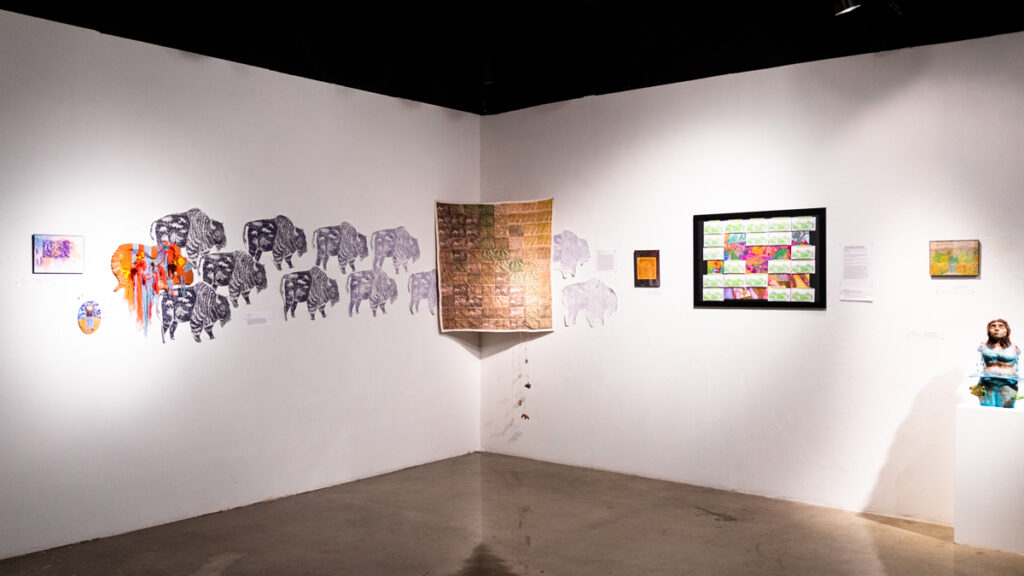 "The reason I want it to be viewed this way is because I want each piece to scaffold the viewer's change in mindset. I start with a few pieces that show enjoyment of nature and value in connection to nature. As the bison fade out, the quilt shows a call to action by addressing ecosystem loss in Illinois," Schneider said. "I wanted to highlight appreciation for nature before expecting viewers to save it. The quilt carries a sense of mourning for what Illinois has lost to colonization — an entitlement of space with a lack of respect for natural ecosystems and Indigenous peoples."
Schneider includes interactive artwork that allows audience members to take native flower seeds home, and removing the seeds reveals an image beneath. The image "is a depiction of hope and what human hands are capable of. The call to action in the quilt moves to the action within the interactive piece. Lastly, I end on continuing an appreciation for nature."
Future endeavors
Metz, who graduated from Carbondale Community High School in 2018, will earn her degree next month. Initially considering a future in architecture and designing buildings, Metz explained she began as an exploratory student, took a painting class "and didn't look back from there."
"I declared my major and honed in on creating my work," she said. Metz wants to travel, find new inspiration and then pursue a Master of Fine Arts in painting and embark on her career.
Schneider is filling an art teaching position at Sparta High School. She chose art education "because I want to help my students reconnect with nature using art as a tool to achieve eco-justice and maintain the connection between humanity and the natural world."
Schneider added that art is an "integral part of human experience," and her interest in art started as early as she can remember. She maintained that interest "because I had many people in my life who fostered my creativity." A future project she wants to achieve is creating a community garden with students, adding a "project like this could truly help people enrich their relationship with nature."
Schneider said she is excited to get to know new people "and form community through art and environmentalism" once she moves to Minnesota, and she is "curious about what the new environment could teach me."
Talented students
Seniors in the School of Art and Design, part of the College of Arts and Media, who are graduating from the fall semester to the end of the summer term are encouraged by faculty.
Sun Kyoung Kim, chair of the Rickert-Ziebold committee and associate professor of metals and jewelry, said she was impressed by the students' quality of work that extends beyond their art prowess and to their research and the environment. Even with a smaller group of six finalists, Kim noted the quality of entries continue.
Mark Pease, an associate professor in digital media, noted the importance of seeing "the best work from our best seniors." Each student showed their individualism and "how unique their ideas are."
"They are trying things that they don't know the outcomes to yet, and that's a really healthy place to be as an artist or designer," he said. "They are not just remaking what they have already seen, but they are starting from a really personal place. And they are creating things that are really unique."
The other finalists were:
• Arthur Gibson, blacksmithing, Cape Coral, Florida.
• Ethan Hanse, metalsmithing, Salida, Colorado.
• Hannah Holste, communication design, Freeport, Illinois.
• Cole Schnaudigel, art education, Arlington Heights, Illinois.
Pease had Metz and Schneider as students early in their undergraduate careers.
"In a beginning level class, they really stood out. You could tell whatever path they were going to take, you could see early on the potential," Pease said. "It's not a surprise that their work is ambitious, the presentation is really good, and their talent shows through. To see them now at the graduating level is really exciting to see what they have done over the course or two to three years."