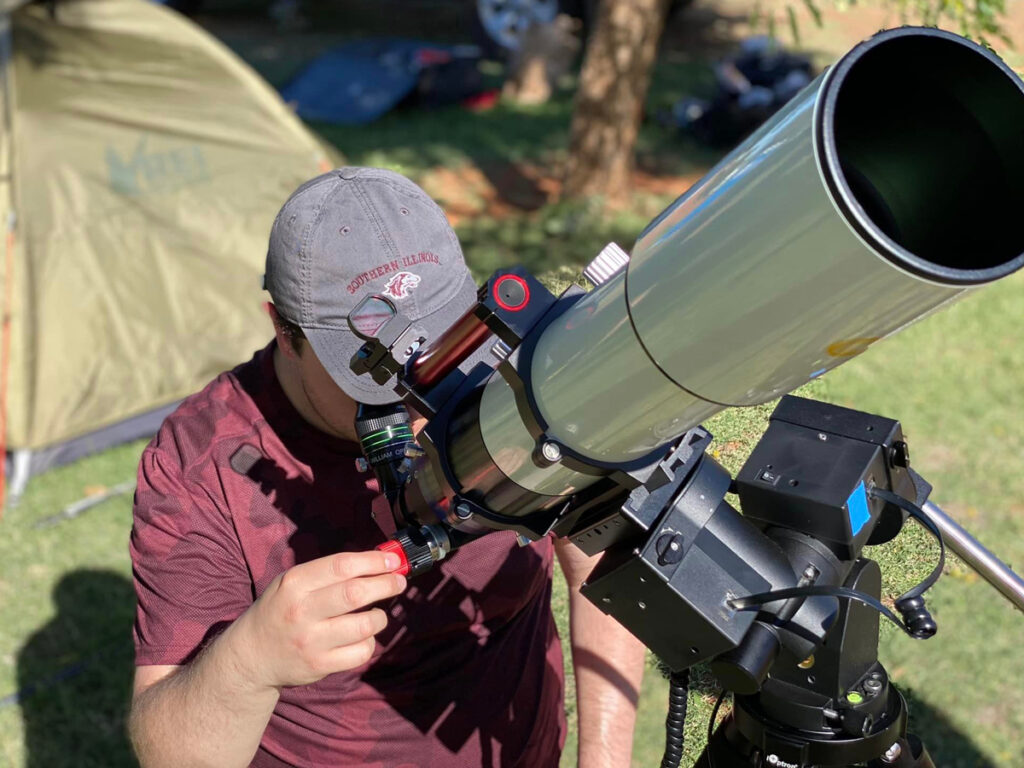 In late April, I led a research group from Southern Illinois University Carbondale to Australia to witness and study a hybrid total/annular solar eclipse there on April 20. These observations we made allowed us to gain valuable information on our procedures that will give us a better jumping-off point for the work here in Carbondale, now funded by NASA and the National Science Foundation.
The research group included physics graduate student Chris Mandrell and physics undergraduate students Lance Griswold and Richard Danley. We rented four-wheel-drive vehicles and traveled from Perth to the shires of Cervantes, Morawa and Murchinson, doing public outreach events with Western Australia (WA) Astrotourism and Perth Observatory at each location for dark-sky nighttime and solar astronomy. These events supported our outreach mission as well as giving us much-needed practice observing in the southern hemisphere prior to the hybrid total/annular eclipse.
The trip took us through remote areas of Australia, much of which was on dirt roads only accessible by four-wheel-drive vehicles. Viewing from these dark areas was incredible, with the Milky Way and other deep sky objects visible to the naked eye. Our trip from Perth to Exmouth was 1,200 miles and took us 4 days.
In addition to our research group, an SIU study abroad group was led by Cori Brevik, assistant professor of practice in the School of Physics and Applied Physics, and Harvey Henson, director of SIU's STEM Education Research Center. That group arrived in Australia a few days later than us and travelled in RVs to Bullara Station just south of Exmouth. Their group also did public observations, as well as snorkeling and geology.
Our research group stayed in Exmouth at a house we rented from a local homeowner. We spent April 17-19 aligning and practicing with telescopes and refining our observing procedures. Our trip was funded through SIU funds, primarily by the SIU STEM Education Research Center so that we could use the trip to prepare for the Dynamic Eclipse Broadcast (DEB) Initiative, which is a national citizen science project led by SIU to conduct coronal research throughout North America using volunteer observation teams. The DEB Initiative is participating in the National Science Foundation-funded Cosmic Picture, "Einstein's Incredible Universe," which seeks to engage young women in STEM.
We made this trip with two prototype DEB Initiative imaging setups (telescopes) and two Lunt Solar Systems imaging setups to test our procedures in preparation for the upcoming 2023 and 2024 annular eclipses. We found out the morning of the April 20 eclipse that we have been awarded a NASA grant for the DEB Initiative. Matt Penn, adjunct assistant professor of practice in the School of Physics and Applied Physics, and I will lead the grant as co-principle investigators.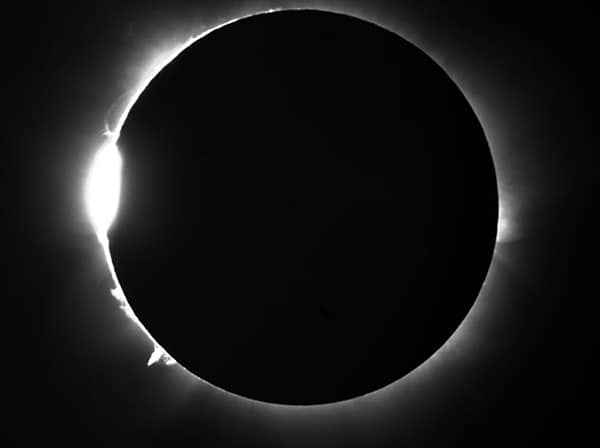 Our eclipse-day observations were done with all four research telescopes set up in the backyard of our rental house, as well as two additional telescopes in the front yard.
The study abroad group operated those two telescopes as a public outreach event for the neighborhood, which gave the students valuable experience that supplemented their education with international community outreach. The outreach will help us build a long-term relationship with Western Australia Astrotourism, with the intent to return and do similar dark-sky astronomy, geology and space science for SIU study abroad students in the future.
We were able to collect partial eclipse data on all of our telescopes. Observations included data from three types of telescopes operating in white light, Hydrogen Alpha and Calcium K wavelengths. We experienced a software error, however, that prevented collection of totality imagery on the two DEB telescopes.
We did manage to capture totality data on the Lunt telescope. Penn processed the image as an initial, quick look high dynamic range (HDR) image. We also gathered over 90GB of data from the partial and total phases of the eclipse that we will be processing and analyzing in greater detail in the upcoming months.
This April 20 eclipse happened as we approached a maximum in solar activity and was a short duration hybrid total/annular eclipse. The moon just barely covered the sun during totality in a narrow 28-mile-wide path over the Exmouth peninsula. Because of these conditions, the inner corona observed was much brighter than expected. We were fortunate to have adjusted our exposure times to shorter values for our HDR imaging so that we were able to capture inner corona data that would have otherwise been washed out or over-exposed with longer exposures.
Baer is co-chair, Southern Illinois Eclipse 2017-2024 Steering Committee at Southern Illinois University Carbondale.