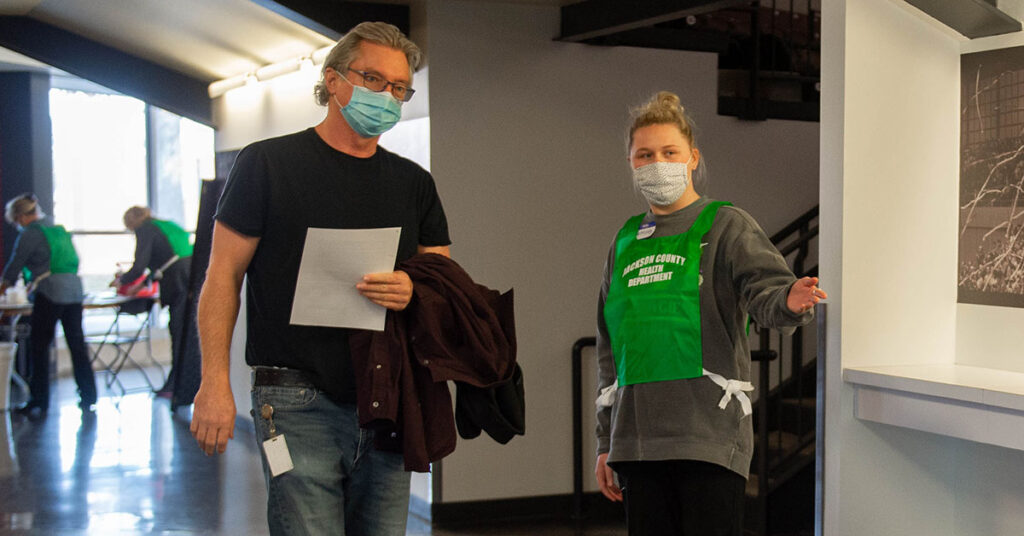 Seniors in Southern Illinois University Carbondale's dental hygiene program are assisting the Jackson County Health Department as it administers COVID-19 vaccinations at the Banterra Center.
The 30 students are helping as part of their training to receive their certificates as Community Dental Health Coordinators, said Dr. Amy Wyatt, a dentist who is clinical assistant professor with the School of Health Sciences' dental hygiene program.
Vaccine distribution is determined and overseen by state and local health departments. While SIU does not have a role in determining when and how people may receive the vaccine, the university will collaborate with local health agencies as needed. Additional information on vaccine eligibility and registration is available on the health department's website or by calling 618-684-3143.
The students are greeting people as they arrive for their vaccines, handing out forms, scheduling second dose appointments and helping those with mobility issues. The students are also monitoring people for 15 minutes after they receive the vaccine and answering any simple questions they might have.
Serving the community
Kennedy Shank and Nicole Yoshino are seniors in the program who will both graduate in May.
"I decided to assist because I thought it was a great volunteer opportunity to help out with the COVID-19 vaccine, since it is such a big part of people's lives right now," Shank said.
Yoshino added that she believes it's important to "give back to the community that always helps us."
"I wanted to help take part in giving out this new vaccine," she said.
Shank called the experience a "great volunteer opportunity." Her job includes making sure people feel OK after they receive their vaccines and informing them what to do next.
Students are not required to get the vaccine to help, but they are all eligible in Group 1a as health care providers, Wyatt said.
Shank said she hasn't received her vaccine yet, "but after going to this and seeing how it was, I plan to get mine soon." Yoshino received her first vaccine at the Banterra Center and will get her second dose next week.
"Everyone was very nice and helpful," Yoshino said. "Overall, I had a good experience."
Vaccine recipients are "very happy and excited" to receive the shot and are thanking volunteers, Shank said.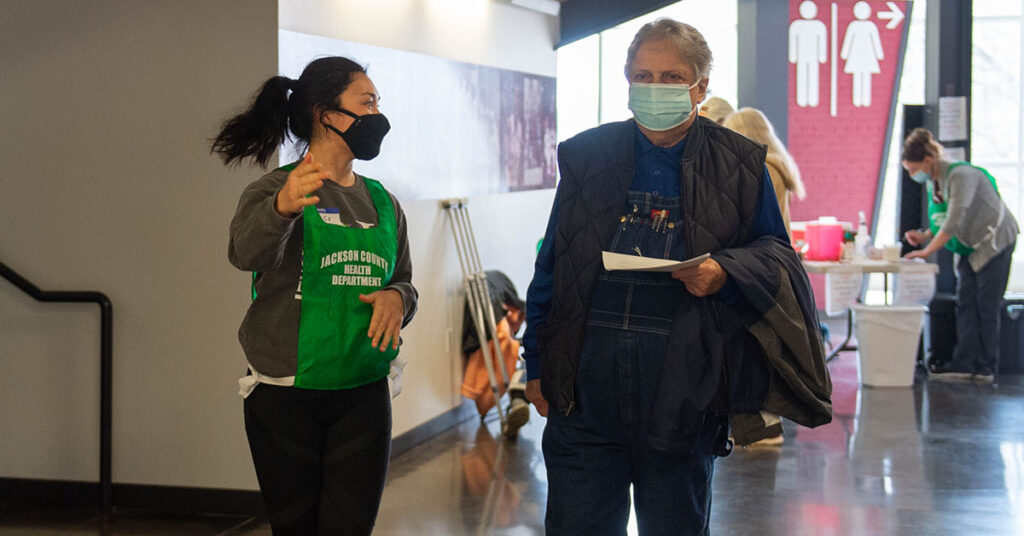 A boost to students' future careers
The online Community Dental Health Coordinator certification developed by the American Dental Association will assist graduates working in a federally qualified health center or community health center or with underserved populations.
As a part of the certification, students learn program planning, grant writing and resource mapping, which is a mechanism for dental professionals to assist patients in finding a way to make dental appointments in public dental health clinics when access is limited.
Accredited by the Commission on Dental Accreditation, SIU's program remains the only one in Illinois that offers a four-year dental hygiene bachelor's degree in the state. The program also offers an online degree for present dental hygiene professionals.
Wyatt added that the Illinois Dental Hygiene Association has reached out to Illinois Gov. JB Pritzker's office and is urging him to approve dental hygienists to administer the COVID vaccine to assist in mass vaccinations within the state. If approved, the seniors who graduate and become licensed in May will be allowed to administer the vaccine, according to Wyatt.
"By participating at our local Jackson County Health Department vaccination clinics, our students are getting experience in preparation for what will likely be a more active role of administering the vaccine in the future," she said.