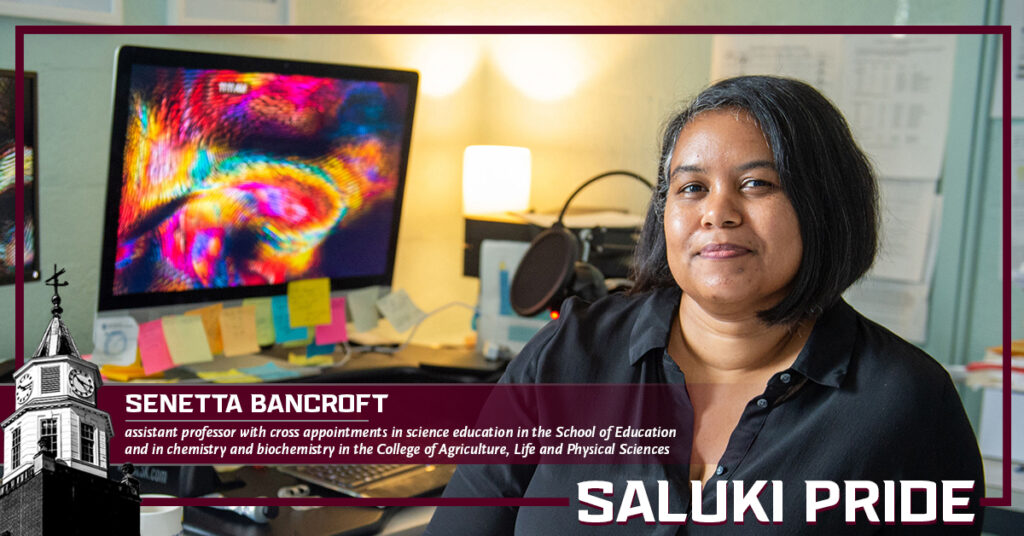 Science education professor Senetta Bancroft is determined to make STEM opportunities accessible to everyone. Her efforts have drawn accolades from her colleagues and the 2021 Shining Star Award from the School of Education.
Bancroft is very effective in communicating scientific concepts to students of all grade and experience levels, said Saran Donahoo, associate dean and professor in the School of Education. She also praised Bancroft for her research that has resulted in seven externally funded grants, numerous publications and nearly 30 conference presentations at the regional, national and international levels.
Get to know Senetta Bancroft
Name: Senetta Bancroft.
Department and job title: assistant professor with cross appointments in science education in the School of Education and Department of Chemistry and Biochemistry in the College of Agriculture, Life and Physical Sciences.
Years at SIU Carbondale: 5.
Give us the elevator pitch for your job.
My job revolves around supporting current and future science educators using evidence-based teaching practices, such as active and student-centered instruction. These are evidence-based practices I use and research right here at SIU. However, they are not used widely enough in K-16 science teaching regionally or throughout the nation. I chose this as my professional focus because there is a persistent gap in students of color having equitable access to high-quality learning experiences in formal science learning settings. This endeavor includes working with a team of science, technology, engineering, and mathematics (STEM) faculty from both SIU and SIUE to provide externally funded, multiyear professional development opportunities for practicing K-12 science teachers within the southern and southwestern regions of the state. I also collaborate with SIU science faculty to improve how they teach their undergraduate science courses.
Finally, I work with SIU secondary science teacher candidates through my teaching to support their ability to design and implement using original science lessons with current K-12 students in the region. Not only do I aim for them to implement active learning strategies in these lessons but to also increase the impact of their instruction through their use of inquiry-based and culturally responsive instructional strategies.
Publishing research in peer-reviewed journals related to this work with STEM educators is a central part of my job. My published work increasingly reflects this collaborative and innovative work done with STEM educators and learners in our region.
What is your favorite part of your job?
Working every day with multiple stakeholders within and beyond the state of Illinois who are as invested as I am in increasing access to high-quality STEM learning experiences for all students. STEM is a gateway for everyone to continually grow their insight into how the natural world works as well as to high-paying, stable careers. When access is equitable, it has the potential to transform the lives of individuals and their communities. Being able to surround myself with faculty, administrators and practicing and future educators who see their jobs as capable of transforming lives makes my job an enjoyable and deeply rewarding endeavor.

Why did you choose SIU?
I think, like most faculty who accept a position, you choose it because you perceive a potentially good fit between your professional and personal goals and the goals of the institution. I was no different. What is more important is why I have stayed at SIU. It is an institution that has consistently communicated to me that my scholarship is welcomed and valued. Given the focus of my research and teaching, I interpret this communication as SIU honoring the tradition of access and inclusive excellence within its mission. I stay because I can contribute to and advance this mission.
When you were a child, what did you want to be when you grew up?
I wanted to be a judge. I have always believed systems needed to be fair for people to feel like they could thrive in them. I hated when I played a game and people cheated or a teacher treated some students better than others, even if I benefited from the unfairness. At the time, I thought being a judge in a court was the only way I could help a system be fair.
My favorite activity away from work is …
Cooking. I have moved around a lot for school, and there was never a guarantee that I could find prepared food that reminded me of home whenever I moved somewhere new. I could usually find the ingredients I needed to prepare those meals, though. So I learned and have come to enjoy making meals that remind me of home.