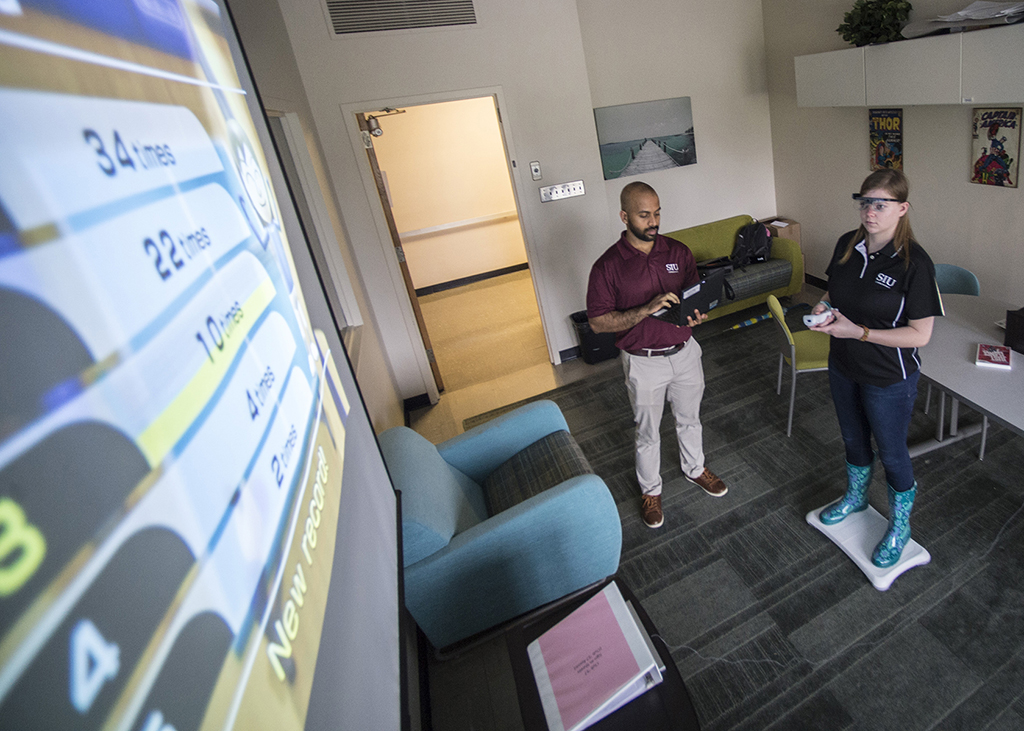 Video games can be fun, but an undergraduate researcher at Southern Illinois University Carbondale is finding they also can potentially help young children with certain types of autism.
Ashley Robinson, a senior in exercise science, is using a Wii and special glasses that track eye movements to look at the connection between eye movement and control among children with high-functioning autism. She is working with Venkata Ambati, assistant professor in the Department of Kinesiology, on the project.
Researchers hope to learn how differences in eye movement relate to social development
The study is aimed at characterizing deficiencies in ocular motor control among certain autistic children as compared to those who are developing more typically.
The research hopes to find evidence that might shed light on how such problems are likely to negatively affect social communication and language development.
Ambati and Robinson are using a Wii, Wii balance board and a balance game called Wii Fit, along with Tobii Pro eye-tracking glasses, to gather information. Children who are part of SIU's Center for Autism Spectrum Disorders are participating in the study, along with other typically developing children.
Game play highlights how eye movements differ in children with autism
The researchers instructed the test subjects to wear the eye tracking glasses and stand on the Wii balance board. As the Wii Fit game simulates soccer balls coming at the player, players must adjust their balance to try and hit the soccer balls with the head of the virtual player. At the same time, they instructed the subjects to avoid other items in the game, such as shoes or panda bear heads.
"Their score can be affected by where they are looking on the screen" Robinson said. "The eye-tracking glasses show us where they were focusing their eyes while playing the game. This also helps to know the gaze behavior difference between children with high-functioning autism and typically developing children."
Hands-on research is a valuable learning tool for SIU undergraduates
The project is ongoing, and the researchers have just begun crunching data. But Robinson said she already knows her experience as an undergraduate researcher at SIU – a priority at the university – has taught her how to do her own research as she moves forward with a career in physical therapy or exercise physiology.
"The responsibility and knowledge I've gained from working with Dr. Ambati is going to go with me wherever I go in my graduate career," she said. "I'm thankful for this opportunity and cannot wait for the results to be finalized."