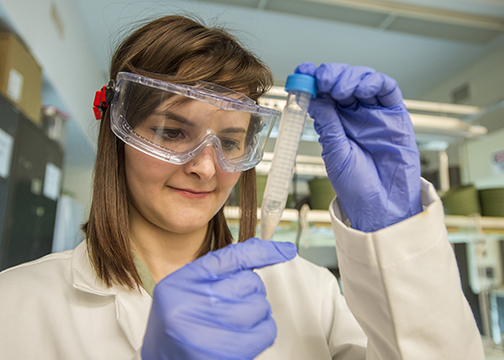 Nano materials hold great promise in fields of such as engineering and medicine. But the impact on the environment of the super-small materials, which already are quietly common in our daily lives, is largely unknown.
An undergraduate student at Southern Illinois University Carbondale is trying to find out what those impacts might be.
Marissa Campobasso, a senior who is earning a degree in civil and environmental engineering, is working with Assistant Professor Jia Liu to find out how two types of nanoparticles might impact the microbial community in local waters. That microscopic-level of life might serve as the proverbial "canary in the coal mine," should the nano materials cause adverse effects.
Campobasso got interested in this research after listening to a presentation by Yanna Liang, former faculty member, describing  her research. At SIU, undergraduates can get involved in real, impactful research right away, and Campobasso wanted in.
Later, Campobasso decided she liked the idea of studying nanoparticles – which are only one-billionth of a meter or so in diameter – because of their commonality in everyday consumer products.
"Their effects on the environment need to be studied in order for regulations to be put in place, if they are determined to be toxic," she said.
So last year, Campobasso visited Crab Orchard Creek in a location where the Carbondale Southeast Wastewater Treatment Plant effluent mixes it. She filled 12 flasks with equal amounts of water from the waterway, adding silver nanoparticles to three of them,
zinc oxide nanoparticles to another three and both types to three others. The final three served as a control group, with no particles added to them.
She then loaded the flasks onto mechanical shakers, which agitated them to simulate the movement of the creek water.  She repeated a series tests for three days every 24 hours to see how the nanoparticles affected the microbes in the lake, with the answers coming soon.
"I am expecting the microbial communities to decline, however, it would be a good sign if they didn't," she said.
Campobasso said she is grateful for the research opportunity she received at SIU.
"I am learning how to use a variety of lab equipment and I am able to expand on what I have learned in the classroom and apply it to an important real life project," she said. "If my results look promising, I will share them with the Illinois EPA and submit it to a journal for publication.
"I am planning to earn a master's degree, and having a publication and some research experience under my belt will give me a competitive edge for when I apply to graduate schools," she said.
But her involvement in undergraduate research at SIU already may be paying off. Argonne National Laboratory, one of the top national research labs in the country, recently extended her a job offer to work as a summer intern.
"I believe that my undergraduate research experience has helped me acquire this opportunity," she said.