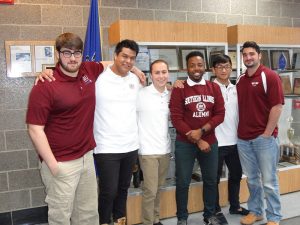 These students didn't have to trek to Southern Illinois University Carbondale to become a Saluki and earn a bachelor's degree in aviation management from one of the nation's premier aviation programs. They became the first group from the Community College of Beaver County (CCBC) in Monaca, Pa., to complete classes in SIU Carbondale's nationally recognized aviation program while pursuing their flying requirements and core study credits at CCBC.
The work is intense
The program at CCBC started in fall 2016 and students take classes on a 16-week rotating weekend semester, including summer months. When in session, the classes run from 8 a.m. to 5 p.m. Saturday and Sunday with one research/writing intensive course running the entire 16 weeks, according to Sam Pavel, an associate professor in SIU's Department of Aviation Management and Flight. Classroom work takes 16 months.
CCBC is "the premier aviation program in western Pennsylvania," Pavel said.
He expects the off-campus program to eventually reach more than 20 graduates a year. Fifteen students participated in the dual program at CCBC, including Natelie Chappell, a junior in aviation management, who was presented a scholarship at SIU's aviation banquet last month.
Additional degree benefits
Another benefit of the SIU degree is the Federal Aviation Administration certification that reduces the required flight time for graduates interested in becoming airline pilots. CCBC is the first of SIU's off-campus sites to qualify for the FAA's restricted air transport pilot certificate, or R-ATP.
Based on the university's curriculum and training requirements, the FAA in 2014 lowered the number of flight hours SIU aviation management and flight students need to qualify for the certificate from 1,500 to 1,000. That is a significant savings in both time and money for graduates headed to a flight career with an airline.
Other off-campus program locations
The aviation management program also offers classes in four other off-campus sites: Southwestern Illinois College, Belleville; Mount San Antonio College, Walnut, Calif.; Marine Corps Air Station (MCAS) New River, Jacksonville, N.C., and MCAS Cherry Point, Havelock, N.C.